Guatemala Solidarity Project Quarterly Report
March 31, 2020
The purpose of this report is to update our supporters on some of our work and the events affecting our partner communities in recent months.  However we must start with an urgent appeal.  Just as conditions worsen on the ground, our ability to act in solidarity with our partners has been severely limited in the past month.  One important area has been our fund raising efforts.  We receive approximately half of our donations while canvassing door-to-door in the United States.  Because of COVID-19 and related restrictions, our canvassing efforts have been suspended.  Our numerous monthly commitments, including to political prisoners, teachers, children orphaned by attacks on indigenous communities, and other areas as prioritized by our partners, are now at risk.
Please consider making a donation during this critical time.  You can donate via our website or by writing a check out to UPAVIM and mailing it to UPAVIM, PO Box 63, Marshfield, VT 05658.  We thank our fiscal sponsor, the volunteer-run UPAVIM Community Development Foundation, a US 501(c)3 non-profit tax-deductible organization, for supporting us and ensuring that all funds go to our partners in Guatemala.  Because all funds go to our partners, contributions of any size can make a significant impact.  Please donate today!
COVID-19 Causing Increasing Harm in Indigenous Communities Despite No Reported Cases
As of the writing of this report, there has been one COVID-19 related death in Guatemala (of someone who was infected outside of the country), no deaths of people who became infected with COVID-19 within Guatemala, and no cases of COVID-19 in any of our partner communities.  We are hopeful that these trends will continue.
New President Alejandro Giammattei has announced that in order to limit the spread of the virus it is necessary to suspend constitutional rights.  Currently he has decreed a National Curfew through April 12 and a State of Calamity through May 5.  The curfew prohibits anyone from leaving their home between the hours of 4pm and 4am, and requires the arrest of anyone who does so.  The State of Calamity is a special status similar to Martial Law in which the police and military can conduct numerous actions such as arrests, search and seizure with limited or no judicial oversight.
While it is important for the government to take strong actions to prevent the spread of the virus, we are concerned that the government may have ulterior motives.  The very first action taken by President Giammattei after taking office on January 14 of this year was declaring a State of Emergency and suspending constitutional rights, such as freedom of speech and assembly, in the municipalities of Mixco and San Juan Sacatepequez.  The President stated that such actions were necessary to combat gang violence.  Gang violence is a major problem in Guatemala, but many wondered why Giammattei was focusing on San Juan Sacatepequez when other municipalities have significantly greater levels of gang violence.  San Juan Sacatepequez was the home to a powerful movement against cement factories that were generating massive environmental pollution and had been associated with illicit campaign contributions to powerful politicians.  Meanwhile the GSP is clear that addressing the route causes of economic and social inequality will be far more impactful in decreasing gang violence than the government's attempts to militarize the country.
This repeated use of emergency declarations makes it difficult to take President Giammattei by his word when he says that the National Curfew and State of Calamity are solely focused on limiting the impact of COVID-19.  Regardless of the government's motivations in declaring these states of emergency, we have already seen numerous attacks on indigenous communities since the outbreak of the pandemic .  We will discuss some of these attacks later in the report.
While the COVID-19 virus itself has not impacted our partner communities, the states of emergency have had major impacts on local economies, malnutrition and human rights and environmental organizing.  All public transportation has been suspended, and our partners do not have personal vehicles or friends with personal vehicles to support their most necessary transportation needs as is the case for many people in the United States and Europe.  Because of the lack of transportation, they have had extremely insufficient access to markets to sell their goods.  At the same time, middlemen have taken advantage of the situation and the cost of staple foods such as corn and beans have skyrocketed.  In particular in communities which had a below average harvests or whose harvests were destroyed in government attacks, the additional difficulties brought on by the states of siege have resulted in malnutrition crises.  The majority of indigenous children in Guatemala suffer from chronic malnutrition, and this situation is only getting worse.
Severely limited transportation has also forced a suspension of meetings, protests and other gatherings organized by community leaders in defense of indigenous rights and natural resources.  Leaders have been nearly completely unable to mobilize in support of communities which have been attacked in recent weeks that are in desperate need of nutritional and legal solidarity.
Despite these barriers we continue to organize on the ground with our partners to continue our solidarity work in a way that keeps people out of danger as much as possible.
Attacks Against Indigenous Q'eqchi' Community San Jose el Tesoro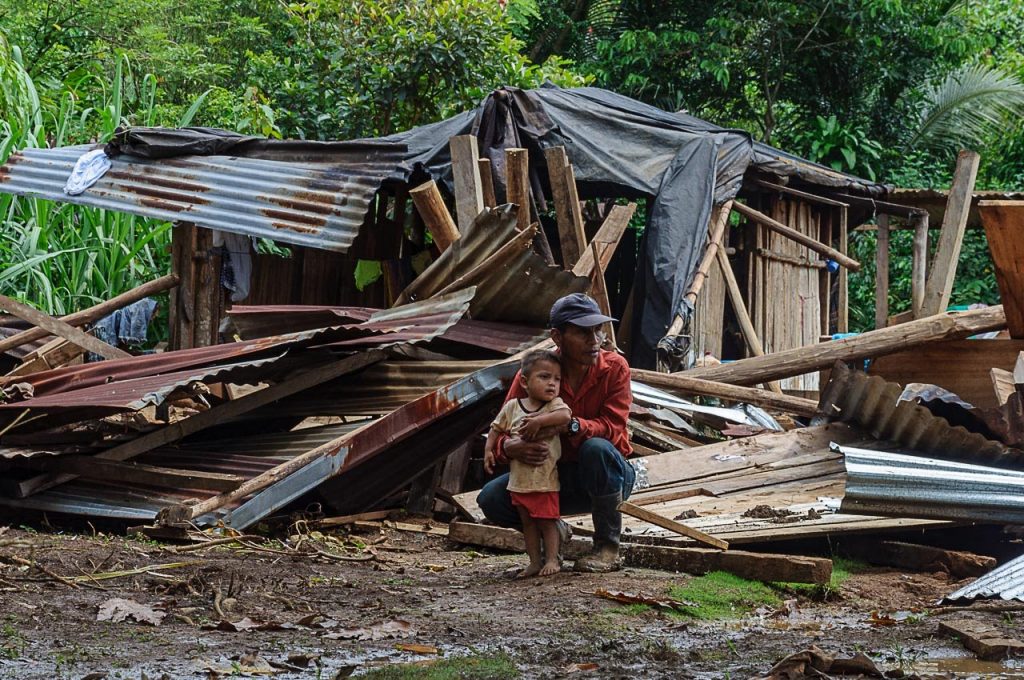 Our partner community San Jose el Tesoro has faced two significant government-led attacks in recent months.  On October 10, 2019, hundreds of police attacked the community and destroyed every home.  Three pregnant women went into labor as a result of attack-provoked stress, and at least one of the prematurely born babies continues with significant breathing problems.  Solar panels, water filters and numerous other goods were stolen.  Then on March 11, 2020, after the government declared a State of Calamity supposedly to enforce isolation measures related to COVID-19, hundreds of police again attacked the community, this time burning down every home and forcing the community to flee into the forest.
The GSP is working closely with our partners to provide urgent relief to community members despite the additional obstacles posed by travel conditions under COVID-19 restrictions.  For more information and pictures from the October 10  attack, click here
Attacks Against Indigenous Poqomchi' Community Dos Fuentes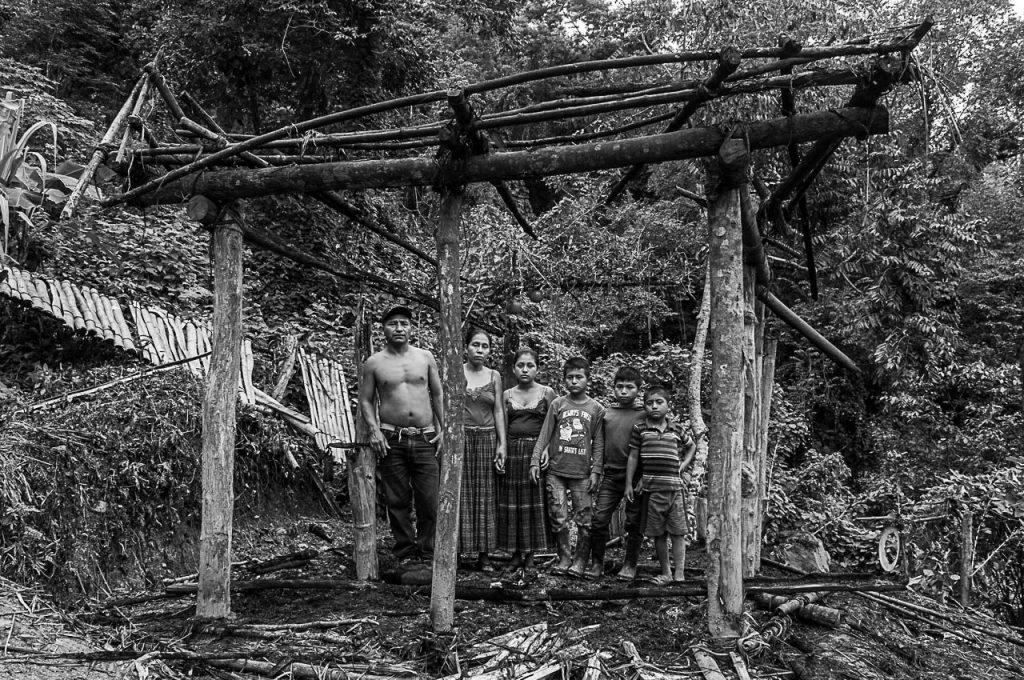 Our partner community Dos Fuentes was attacked on December 11, 2019, by hundreds of police who burned down homes and injured several community members.  The attack was in support of the Pananish company which is facilitating the theft of land and natural resources for the construction of hydroelectric dams.  On February 14, 2020, dozens of Pananish employees attacked the community and destroyed subsistence crops.  On March 25, 2020, Pananish again attacked the community, resulting in one child being hospitalized from a gunshot wound.  Pananish is claiming legal ownership of lands that have been occupied by thousands of indigenous Poqomchi' peasants for generations.  Pananish is using this claim to sell off natural resources and violently evict people from their homes, although numerous studies have shown that Pananish does not have legal ownership of the land.  The government recently established a new military base in the area of conflict to support the repression of Poqomchi' villages.  For more information and pictures from the December 11 attack, click here
Mobile Schools
We are in year two of our Mobile School program, in which four teachers and one nurse are currently providing academic and health support to eleven communities which have been completely abandoned by the government.  The government is legally required to provide access to education for all children in Guatemala, but they are refusing to do so in the majority of our partner communities.  While we have helped start numerous full time schools, our partners prioritized this new effort which only provides education in each community for one week every month because it makes it possible for more communities to receive educational support.
Many of these communities have illiteracy rates above 90%.  These communities must have access to full time educational programs and we will continue to collaborate with our partners in efforts to pressure the government to follow the law.  In the meantime the mobile school teachers are focusing on basic reading and writing skills for both children and adults.  The teachers are working under extremely difficult conditions with almost no material support, and we have already had to tell participating communities that the program may need to be suspended due to the COVID-19 pandemic's impact on our fundraising efforts.  Because of the significant need for education our partners are exploring alternatives that will permit the program to continue with even more severe limitations than the current one-week-per-month status.  Please make a contribution today to help us keep the mobile schools operating.
The pictures below reflect the eagerness children in these communities have to learn, and their excitement upon receiving very basic writing materials.
Child Among Victims of Attack Against Indigenous Xinca Community La Virgen
On March 20, our partner community La Virgen was attacked by paramilitaries supporting retired Colonel Eric Molina.  Three people were murdered, including a child.  The attack was in support of Colonel Molina's efforts to steal massive tracks of land from indigenous Xinca communities in Jalapa, Guatemala.
Community members, including those killed, have helped lead efforts to block the expansion of open-pit mining in the region.  On November 27th, 2016, a public referendum was held in which 98% of voters in the neighboring municipality of San Carlos Alzatate, Jalapa, chose to prohibit any chemical mining activity within their municipal boundaries. In 2017 the Xinca movement also forced the suspension of the Escobal silver mine, one of the largest mines in the Western Hemisphere. The US embassy has pushed the Guatemalan government to "protect investors" while continuing to train and equip the repressive Guatemalan military.
GSP activists have supported funeral arrangements and nonviolent security measures to help prevent future attacks.  During the March 20 attack one of the paramilitary members said that they would kill some community members today, but they will come back and massacre the rest if the community did not give their land to the Colonel. 
Q'eqchi' Community Las Cataratas Prevents Eviction, Arrests through Legal Action
On February 12, the indigenous Q'eqchi' community Las Cataratas successfully prevented a violent eviction order and the arrest of community leaders thanks to legal action carried out with the support of GSP donors.  Frequently violent evictions and arrests of activists are carried out not only because of the corruption of the Guatemalan government but also because indigenous communities lack the resources to access the court system.  This was just one of many recent examples in which the GSP supported indigenous communities to defend themselves in court.  Your donations help us continue to do this important work which is often prioritized by our partners.
Water Filter Expansion
In recent months GSP activists have focused our water filter efforts through the mobile school program and rural clinics.  Teachers and health workers have helped bring access to clean water to thousands of people in indigenous communities with the creation of simple water filtration systems.  While these systems are very basic, they have helped diminish water-borne illnesses.  Malnutrition in our partner communities is caused by lack of food, but water-borne illnesses also play a very significant role by preventing bodies from properly absorbing nutrients.
The filters also have a positive environmental impact because in most of our partner communities the only option for clean water is boiling water.  The filters lessen the need for gathering wood to build fires.  Such fires also contribute to respiratory illnesses.
Water filtration systems in clinics are extremely impactful.  Clean water is necessary for many medical procedures but it is unavailable in most rural health centers.  One of the most common reasons people visit such centers is because their children are suffering from severe acute malnutrition.  The treatment can be fairly simple and inexpensive, but it requires clean water. 
The pictures below show the setup of one of the water filtration systems, along with lab results showing that prefiltered water is contaminated with dangerous E. coli bacteria, while filtered water is not.
Pablo Sacrab is Free!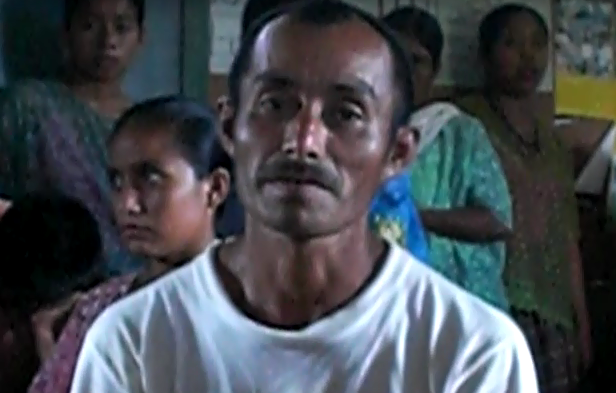 After more than 10 years in prison, indigenous q'eqchi' community leader Pablo Sacrab was finally released in February.  Sacrab is from the community Saquimo Setana, which faced decades of violent government-supported attacks.  In many of these attacks homes were burned down, residents were assaulted and community leaders were arrested on fraudulent charges.  The attacks most commonly occurred between the months of September and November, when the community was harvesting the cardamom which it depended on for survival.  The harvest was routinely stolen, and much of the forest surrounding the community was clearcut.  
In 2013 the community faced a final series of attacks in which every home and the school was burned to the ground.  Community leader and legal representative Crisanto Cuc Xol was beaten, tortured and imprisoned.  Cuc Xol was released six months later, and now Sacrab has also been released after 10 years of suffering for him and his family.  While we celebrate his release, we mourn the fact that he and other community members can not return to their rightful home.
GSP activists visited Sacrab at least once a month throughout his entire imprisonment, often bringing food, medicine or clothing.   We remain committed to stand with political prisoners who are usually targeted because they are among the most committed and eloquent defenders of human rights and the environment.  Please make a donation now so we can support the basic needs of imprisoned community leaders.
Healthcare Solidarity Delegations
The GSP has planned two Healthcare Solidarity Delegations from May 31 – June 6 and June 7 – June 12.  We are looking for nurses, nurse practitioners, doctors, students and other healthcare workers and non-healthcare workers to participate.  Our goal is to conduct health assessments and provide medication when appropriate for over 1,000 individuals in indigenous communities in rural Guatemala.  We will also support water filtration and specifically address land rights, indigenous rights and other structural issues causing massive health disparities in in Guatemala.
During our June 2019 delegation, we performed health assessments on approximately 400 people, focusing on children under 12 years old.  Over 98% of children showed signs of disease processes that were untreated.  Most children showed evidence of multiple illnesses.  Pneumonia, chronic malnutrition and parasitic infestation were some of the most common.
There is a very significant chance that these healthcare solidarity delegations will be postponed due to the COVID-19 pandemic.  For the moment we have decided not to postpone them because of the great need in our partner communities and difficulty in confirming other dates.  We will consider the health and safety of all participants and community members when deciding on making any change.  If you are interested in joining a healthcare solidarity delegation click here for more information or please contact us at info@guatemalasolidarityproject.org
Restricting US Support for Theft of Natural Resources from Indigenous Lands
The GSP does not use donations to support lobbying, but our volunteers actively support numerous legislative initiatives.  One important one is the Chixoy International Financial Institution Accountability Act.  The US government provides substantial financial assistance to multinational companies and foreign governments to support the theft of natural resources from indigenous lands.  Often this is through international financial institutions such as the World Bank and International Monetary Fund.
The Chixoy Act does not go far enough, but it does place important restrictions on US support for companies and countries that have blatantly violated human rights.  If you are in the United States, please call and/or write your House representative and ask them to co-sponsor the Chixoy International Financial Institution Accountability Act.  Sample text for this ask:  "My name is ____ and I live in your district. I would like your office to sign on as a co-sponsor to the Chixoy International Financial Institution Accountability Act.  This legislation directs US representatives of multilateral development institutions to vote against funding of projects that ignore human rights violations.  It is being led by Representative Jesus Garcia and also supported by Representative Jan Schakowski. I know that in Guatemala indigenous leaders are being murdered and natural resources are being stolen from indigenous territory with the support of US taxpayer dollars. Please support the Chixoy Act to help prevent this from continuing."