Some of the campaigns we are currently working on include:
Freedom for Manuel Choc Xol!
In April of this year, hundreds of Guatemalan soldiers attacked the Q'eqchi' peasant communities Sesajau and Nueva Vida in northeast Guatemala, burning down homes and destroying crops.  Community leader Manuel Choc had recently represented Nueva Vida in negotiations with the government.  As we have seen too often, the government responded to Choc's leadership by targeting him for arrest shortly after the attacks.  Take action in solidarity with Manuel Choc
$7,000 Matching Grant!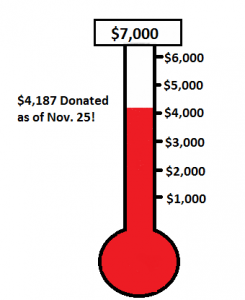 An anonymous donor has agreed to match up to $7,000 in donations received by the end of December, 2015!  We are volunteer run and 100% of contributions, other than small international bank transfer fees, go directly to our partners in Guatemala.  Donations are tax-deductible in the United States.  We are currently in urgent need of donations and need your help to reach $7,000 and double your and other contributions!  We follow the lead of our partner communities to determine where funds go.  Current priorities include support for emergency needs resulting from government and paramilitary attacks on indigenous communities, purchase of water filters for Q'eqchi' communities in the Polochic Valley whose houses were burned down and land stolen in government attacks, and supporting indigenous peoples' right to food sovereignty through the development of organic agriculture projects in Xinca and other communities.  We also have various monthly commitments such as our monthly support for political prisoners and monthly support for children orphaned by government attacks.  Please donate through our website or send a check made out to "UPAVIM Community Development Foundation" to UPAVIM, PO Box 63, Marshfield, VT 05658. Donations are tax-deductible. UPAVIM is our fiscal sponsor, and is a US-registered 501c3 nonprofit that helps us ensure that ALL contributions go to our partners.
Freedom for Pablo Sacrab, Justice for Saquimo Setana!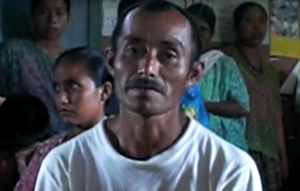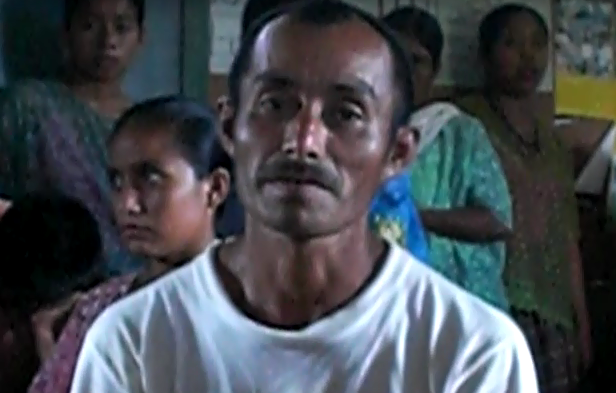 Pablo Sacrab Pop was arrested on December 28, 2010 and is completing his fifth difficult year of prison in Coban. His crime was being a community leader with the Committee of Peasant Unity and participating in nonviolent demonstrations supporting the land rights of indigenous q'eqchi' communities.  Sign the petition demanding freedom for Pablo Sacrab and justice for his community Saquimo Setana!  Read more and view videos about Saquimo Setana.
Clean Water in the Polochic Valley
In 2011 the Guatemalan government sent military and police to burn down the homes and crops of thousands of q'eqchi' civilians in the valley.  As a result we have seen people from these communities die of starvation.  More commonly children have suffered the serious consequences of chronic malnutrition, which include stunted brain development and greater vulnerability to infection and disease.  It is disgusting and unacceptable that this is happening in a valley where the soil is so rich and there is no reason for a lack of food.  Waterborne illnesses are significantly exacerbating the situation, and local leaders requested the GSP organize to purchase locally made, environmentally sensible water filter.  Read more and view videos about the struggle of Polochic Valley communities
End Attacks Against Indigenous Community Rincón de San Valentín
The Guatemala Solidarity Project calls for action in solidarity with the indigenous peasant community Rincon de San Valentin in the municipality of Purulha, Baja Verapaz, Guatemala.  Families in the community are facing ongoing violence and threats in attempts to steal land that is rightfully theirs.  The government has ordered an eviction of the community and has issued arrest warrants against at least 14 community members.  Take action in solidarity with Rincón de San Valentín
Justice for Xinka Community Laserete, Cancel Arrest Warrants Against Community Leaders
The Guatemala Solidarity Project strongly denounces the October 7, 2015 violent forced eviction of Laserete, in the San Marcos Xalapan region of Jalapa.  We call for the cancellation of arrest warrants against community leaders.
Freedom for Timoteo Chen!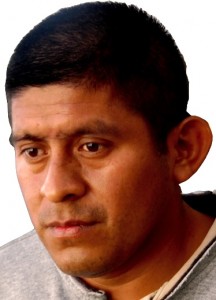 Timoteo Chen was arrested in April 2014 while participating in a healthcare workshop.  Chen was one of the few healthcare providers in the primarily indigenous q'eqchi' region he is from.  His unjust incarceration had a negative impact on the region's health.  It was also marked by repeated delays on technicalities by the prosecution, a strategy that successfully kept him suffering in jail for over a year despite a total lack of evidence that he had committed any crime.
Thanks in part to the GSP and all of you who took action, Chen was released in August 2015 after spending over a year in jail.  Chen had been charged with murder even though there were dozens of witnesses and even photographic evidence that he was not at the scene of the crime.  Chen's real "crime" is being an environmental and indigenous rights activist.  Chen remains out of jail but continues to face fraudulent charges.  We ask you to monitor our website for updates and opportunities to take action in solidarity with Timoteo Chen.
Medical Support for Martin Pec!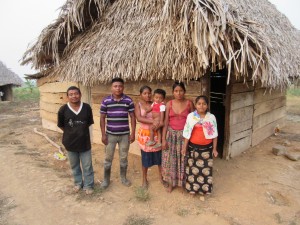 Martin Pec (far left) and his family in front of their house
Martin Pec is a q'eqchi' community leader.  In the middle of the night of August 9, 2011, dozens of heavily armed masked men attacked the community Parana.  They burned down homes, clothes and harvested corn.  Three community members were shot, including an 8 year old girl. Pec was shot in the stomach and brought to an intensive care hospital unit.  Instead of being given quality care, he was arrested on false charges while in his hospital bed and transferred to jail.  Pressure from Guatemalan activists and international solidarity groups like the GSP led to his release from jail weeks later.  However, four years later Pec has little energy, needs to use a colostomy bag and is still trying to access a doctor.  Please monitor our website for updates.
Stop the TPP!
The Trans-Pacific Parternship is the largest ever regional trade agreement. It was negotiated in secret by unelected corporate representatives and will advance global corporate dominance and environmental destruction.  Join the GSP and thousands of activists in Washington, DC, November 14-18 to say NO to the TPP and global corporate dominance!  For more information about the TPP and organizing to stop it visit http://flushthetpp.org
Close the SOA!
From November 20-22, 2015, the GSP will join torture survivors, union workers, religious communities, musicians, puppetistas, students, migrants, veterans and thousands of activists to oppose violence and militarization and celebrate resistance. The gathering will include a march to shut down the Stewart Detention Center, a for-profit immigration detention center which holds hundreds of Guatemalans. Various activities will culminate in a vigil and solemn funeral procession honoring victims of the US Army School of the Americas, where Guatemalan soldiers continue to train today.
From April 14-18, 2016 the GSP will participate in the Spring Days of Action against the SOA in Washington, DC.  Join us for protest, music, and grassroots lobbying workshops!
Arrest President Otto Perez Molina!
The GSP has been calling for Perez's arrest since before he even became President in 2012.  General Perez directly ordered the torture and assassination of indigenous Guatemalan civilians beginning in the 1980s.  According to court testimony, his order was "Indian seen, Indian killed."
On September 3, 2015, Perez was arrested in an historic victory of the people of Guatemala.  While this represents an enormous accomplishment for Guatemala's emerging peaceful civil society, it will ultimately mean nothing if further advances aren't made.  Read more details in our quarterly report from September 2015