We are a small organization fighting against genocide and global warming.  We are opposed by powerful forces such as the US Army School of the Americas.  Despite this, we have won many victories.  A few examples:
Freedom for Edgar Arnoldo de la Cruz Bo and Oscar Braulio de la Cruz Bo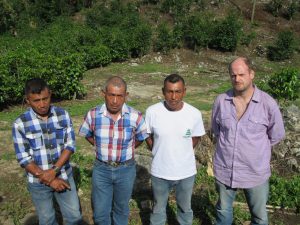 Thanks to support from our donors we were able to assist with legal fees and help finally win freedom for  these brothers from the community Tierra Blanca.  Edgar (above left) was released on March 10, 2017 and Oscar was released on June 10, 2017.  Both served over 8 years prison on fraudulent charges as hydroelectric companies attempted to steal their land.
FREEDOM FOR TIMOTEO CHEN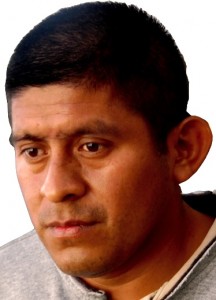 September 2, 2015: Thanks in part to supporters of the Guatemala Solidarity Project, former political prisoner Timoteo Chen Tun has been released after spending over a year in jail on false charges! Shortly after being released, an arrest warrant was ordered against Chen on a new set of false charges. Chen is a community leader and health worker who should be honored for his longstanding commitment to others. Instead he is targeted for organizing nonviolent action against the theft of indigenous lands by the company Hidro Santa Rita.
FREEDOM FOR MARIANO CAAL
On March 27, 2015, Mariano Caal Coc was arrested despite committing no crime. The 22 year old's only "crime" was being an indigenous peasant. Caal is from the community Nimla Sa'chal near Coban, Alta Verapaz. Wealthy "land owner" Saul Girón Zúñiga has been trying to consolidate his wealth by stealing land from the community, and he has the support of the corrupt public attorney's office. Just like many of our partner communities, community members of Nimla Sa'chal live with the permanent terror of being arrested at any moment – while going to sell or buy food at the market, going to visit family, or like Mariano, going to work.   Fortunately our allies were able to immediately mobilize legal action in order to push for Mariano's release. This would not have happened without the support of approximately $250 from the GSP. Mariano was released March 31.   We thank our donors for making this possible. We are in desperate need for donations to support an emergency fund for cases like this. We have seen that immediate legal action can be effective in winning quick release for political prisoners. When this doesn't happen, innocent community leaders can pass years in prison while the government adds additional fraudulent charges.
Historic Referendum Prohibits Chemical Mining
On November 27th, 2016,98% of the voters of the municipality of San Carlos Alzatate, Jalapa, Guatemala, chose to prohibit any chemical mining activity within their municipal boundaries.  Alzatate is an organized indigenous Xinka-Poqomam community with a history of self government that goes back to the colonial era.  The Indigenous Community of San Carlos Alzatate continues to exist today alongside the local municipal government.  The indigenous leadership organized a petition to force the municipal mayor to call for a binding referendum according to established Guatemalan law for Municipal referendums.  Thus the will of the people to prevent environmentally destructive mining activities in their area must be certified by the Guatemalan Supreme Court and will have the force of law.
FREEDOM FOR RAMIRO CHOC
Q'eqchi community organizer and leader Ramiro Choc was detained by the military on February 14, 2008.  False charges were later manufactured and he spent over five years in several prisons and detention facilities.  The government pushed for extended detention and used violence and terrorism in attempts to silence protests calling for Ramiro's release.  The GSP met with Guatemalan officials in Guatemala and the US, helped gather thousands of petitions, organized international fasts, raised funds to support legal fees,  met with members of US Congress and helped publicize the case.  Mostly as a result of the courageous organizing of Guatemalan leaders, but also with the support of the GSP, Choc was released from prison in October of 2013.  Read more about Ramiro Choc
LAND TITLES FOR 140 POLOCHIC FAMILIES
Thousands of q'eqchi' peasants in the Polochic Valley in northeastern Guatemala were made homeless by a wave of violent evictions in March, 2011.  Over a thousand soldiers, police and paramilitary participated in the destruction of hundreds  of houses, thousands of acres of basic grains and the murder of Antonio Beb Ac.  Thousands of people were forced to live without shelter from Guatemala's strong sun and harsh rains.  Their crops were destroyed and they had no other means to feed themselves.  They faced starvation and continued government and paramilitary attacks.  The GSP gathered donations and worked with the affected communities to provide emergency relief while  building self-sustainability.  We circulated petitions and met with the Inter-American Court of Human Rights and the United Nations.  Primarily because of the continued organizing done by families facing hunger and terrorism, 140 families were given land titles on October 19, 2013.  Over 600 families are still pushing for land titles.

Freedom for  Crisanto Cuc Xol
Q'eqchi' community leader Crisanto Cuc Xol was released from prison in July, 2014.  The GSP played an important role in winning his release, including with our support for legal fees and organizing international pressure for his release.
This was a major victory Xol, his family and the indigenous and peasant movement in Guatemala.  Xol is away from the beatings and denial of food he has faced, and can now be with his family, who have suffered increasing malnutrition during his absence.  Xol is also free to decide to continue organizing for justice for indigenous and peasant communities
While Xol is happy for his renewed freedom, he has also expressed significant sadness in leaving prison.  This is not because he wants to be in prison, but because he is leaving behind Pablo Sacrab and other peasant leaders who remain unjustly behind bars.
Xol also no longer has a home to go to.  His home was burned down after he was illegally detained on November 30, 2013, by family members and employees of wealthy "land owner" Maria Elena Garica.  The Garcia family then destroyed the entire community of Saquimo Setana, even burning down the school.
Xol and the GSP are requesting continued solidarity with Saquimo Setana and other indigenous and peasant communities in Guatemala which are organizing for justice.  More information about Saquimo Setana
SCHOOL CONSTRUCTION AND RECOGNITION OF RIO CRISTALINO SCHOOL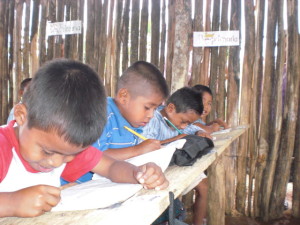 Dozens of primary school age children passed years without access to formal education in the q'eqchi' community of Rio Cristalino. The government refused to recognize the community's legitimate claim for access to land or support the education of its children. The community has been victim to violent attacks from uniformed police and from masked men, but they continue to push for land reform and access to education. The GSP worked with the community to raise funds for basic construction materials, school supplies and teacher salaries. We also organized with community leaders to pressure the government to recognize the school.  The school was built in January 2011, just in time for the start of the school year. GSP fundraising paid teacher salaries at the school in 2011 and 2012.
SCHOOL CONSTRUCTION IN SAJBUTA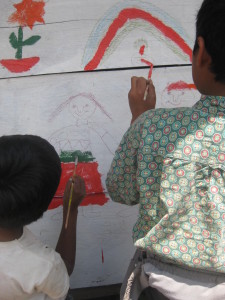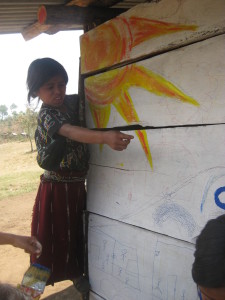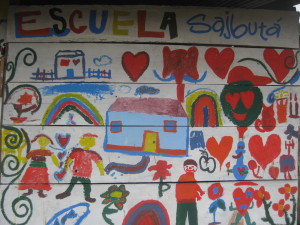 Just outside of the town of Nebaj, of the region of Quiche in the Western Highlands of Guatemala lies the community Sajbuta.  The   community members there are Ixil Maya, many of whom fled the country to Mexico during the genocidal violence of the civil war that plagued this country for 36 years.  When they returned they found that their homes and land had been destroyed or taken over.  On   June 30th 2006, after a 10 year battle to be granted land, their legal right as returned refugees under the 1996 Peace Accords, the people that would form this community invaded and occupied an area that was owned by the   military but unused.  In 2009 the GSP helped the community build a one-room school house.  The school has since blossomed to four rooms, and hundreds of students have passed through it.
President Otto Perez Molina Arrested
On September 3, 2015, former General and then President Otto Perez Molina was arrested in an historic victory of the people of Guatemala.  The arrest followed sustained nonviolent protests that began in April. Students, unions, peasants and other people of conscience took to the streets and caused the Vice President and numerous cabinet members to step down.  Our partner organizations and communities played a lead role in these mobilizations.  As his government collapsed around him, Perez refused to resign.  He held on to power in large part because of support from the US embassy.  Perez is a graduate of the infamous US Army School of the Americas, which has graduated more dictators than any other institution on the planet.  Eventually even his military connections and US support was not enough for him to stay in power, and today the former President is sitting in a jail cell.
While this represents an enormous accomplishment for Guatemala's emerging peaceful civil society, it will ultimately mean nothing if further advances are not made.  The GSP had been calling for Perez's arrest since before he even became President in 2012.  General Perez directly ordered the torture and assassination of indigenous Guatemalan civilians beginning in the 1980s.  According to court testimony, his order was "Indian seen, Indian killed."  It is telling that Perez is not in prison for torture, murder, or genocide.  Instead he was arrested for corruption. Perez is now the second of the last four Guatemalan Presidents (along with Alfonso Portillo, who fled the country the same day he left office but was eventually arrested and spent 6 years in federal prison in the U.S.  In a demonstration of how little has changed in Guatemala, Portillo ran for office and will return to Congress for the 2016 session.)  Government corruption is a huge problem that must be dealt with and these arrests appear to be a step forward in this fight.  But an even bigger problem is the lack of fundamental structural changes, like those mapped out in the 1996 Peace Accords, signed by this Otto Perez as a military leader, ignored by him as President.  Celebration is difficult as long as Guatemala's Presidents continue to get away with massacring indigenous civilians.
SCHOOL CONSTRUCTION IN CUBILGUITZ
The ancestors of Cubilguitz were forced onto their lands to be labor for the coffee plantation approximately one hundred years ago.  When the price of coffee on international markets crashed in 2001, owners of the plantation decided to change their investment and kick off their servants.  Community residents organized with the Committee of Peasant Unity (CUC)in defense of the land.  Dozens of community leaders had arrest warrants ordered against them.  In 2008 the community succesfully got the warrants cancelled, and they are negotiating with the government to obtain legal title in exchange for having worked for generations without receiving pay.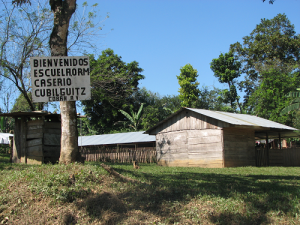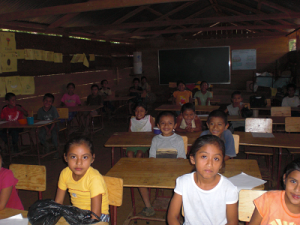 Cubilguitz has helped organize and host numerous GSP solidarity delegations.  The community requested our assistance to purchase materials for the construction of a school.  Hundreds of children had no access to school, and the government would provide teachers to the community only if buildings were constructed.  In 2009 the GSP purchased materials and the community constructed two buildings.  2014 marks the third year that the Cubilguitz school has been open
SOLAR CELL PHONE TOWERS SUPPORT XALALA DAM RESISTANCE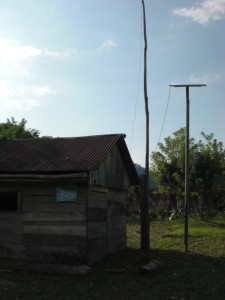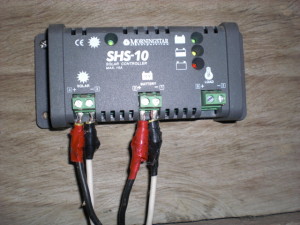 Dozens of q'eqchi peasant communities are threatened with eviction flooding of their ancestral lands by the proposed Xalala Hydroelectric Dam.  The enormous project would be larger than the Hoover Dam and would allow multinational corporations to make massive profit by destroying local ecosystems and selling power on the international market.
Community leaders organized a referendum about the dam in April 2007.  Over 90% of voters rejected the dam's construction.  In September 2007 the government announced that it would ignore the vote and accept bids from multinationals for the construction and operation of the dam.
The communities were particularly concerned with how to get the word out in the case of a government or paramilitary attack.  With the support of GSP fund raising, the communities have built several regional solar powered cell towers to be able to communicate in case of emergency.  Corporate funders backed off the project, citing local resistance as a barrier to profit.
In 2013 the government reprioritized the dam.  A military base has been opened nearby, and the GSP hopes to continue to support communities in their defense of Mother Earth.