The GSP is in urgent need of donations to support our partners in Guatemala.  We take our lead from our partners on the ground to determine what funds should be used for.  Donations are tax deductible, and go directly to Guatemala.  Website fees, mailings, GSP t-shirts, and similar administration/fundraising fees DO NOT come out of your donation as we are completely volunteer run.  Currently many of our partners are suffering from false imprisonment, torture, assassination of loved ones, hunger and terrorism.  Click here to read about our summer 2015 efforts to bring water filters and mosquito nets to the Polochic Valley.  Other funding priorities include:
Support for political prisoners
A growing number of indigenous community leaders in Guatemala are being sent to prison on fraudulent charges in an attempt to silence them and terrorize others from organizing to defend their rights and Mother Earth.  Political prisoners have faced torture, hunger and denial of medicine.  Some have been forced to clean urine and feces from bathrooms with their bare hands.  We are currently sending monthly support to prisoners from Saquimo Setana.  We have previously supported prisoners from other communities.
Emergency support for victims of violence
Most of our partners live in constant danger of attack by military, police, paramilitaries or private security forces.  We have helped pay medical expenses for leaders who have been shot or otherwise injured in attacks.  We have purchased de-worming medicine for children infected after their communities were burned to the ground.  We have given emergency financial assistance to families who have lost everything.  In the video below, hundreds of police and soldiers participate in the "eviction" of thousands of q'eqchi' peasants in the Polochic Valley in northeaster Guatemala in March 2011.  Video footage of such "evictions" are rare because the government uses violence and threats to limit them.  In 2010 GSP activists were attacked and their camera stolen after recording an attack on Saquimo Setana.  The activist who made the below recording was also attacked, but managed to escape with the video.

School construction and scholarships
Many of our partner communities have chosen to prioritize school construction.  The government often denies the right of these communities to exist, and uses this as an excuse to avoid its obligation to provide access to education for all children.  The GSP has so far helped with the construction of three schools (see victories page) which have been attended by hundreds of students.  The following video highlights the struggle for education at Rio Cristalino before we helped build a school there in 2011.
Solidarity with the Raymundo Family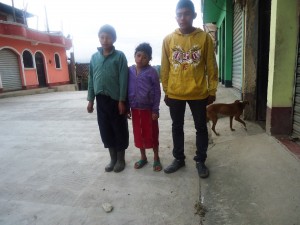 January 10, 2015: This week we are asking for solidarity with the Raymundo orphans. Their parents Josefa Solis Raymundo (died December 4, 2013) and Juan Brito Raymundo (died March 20, 2014) were community leaders at our partner community Sajbuta. The entire community is in a struggle against extreme poverty and malnutrition, but they have made a special request to us to support the children so that they can eat and attend school.
We can only accomplish this with your help.  You can make a difference today by writing a check to UPAVIM Community Development Foundation and mailing it to UPAVIM, PO Box 63, Marshfield, VT 05658.  Or donate via our website.  We thank our fiscal sponsor UPAVIM for helping us ensure that your contributions are tax deductible and that all funds (other than bank transaction fees) go to our partners in Guatemala.