The GSP is in urgent need of donations to support our partners in Guatemala.  We take our lead from our partners on the ground to determine what funds should be used for.  Donations are tax deductible, and all funds go directly to Guatemala.  Website fees, mailings, GSP t-shirts, and similar administration/fundraising fees DO NOT come out of your donation as we are completely volunteer run.
Current fundraising priorities include:
Water filters
The overwhelming majority of children in most of our partner communities suffer from chronic malnutrition.  This often becomes a struggle against death from starvation, especially after government-sanctioned attacks on indigenous communities.  Obviously this hunger is provoked in large part by lack of food.  But it frequently becomes life threatening because of lack of access to clean water.
The GSP is bringing hundreds of high-quality water filters to our partners, and we need your support to make this effort a success.  Many of the water filters are going to indigenous Q'eqchi' communities in the Polochic Valley in eastern Guatemala.  These communities were violently attacked by hundreds of police and soldiers in March, 2011.  The government stated that the attack was a "nonviolent eviction" and that the military was not involved.  The 7-minute video below gives a glimpse of what these "nonviolent evictions" looked like.  Community leader Antonio Beb Ac was murdered, the humble homes of Q'eqchi' peasants were burned to the ground, and corn, beans and other subsistence crops were destroyed.
Several people have died of starvation and related illnesses in these communities since the attack.  On May 6, 2015, GSP activists traveled with Dominga Caal Maquin and her daughter Dominga Caal Caal (pictured below) to the village Rio Frio, one of the communities which was attacked in 2011. Dominga had just left the hospital after several weeks of treatment for severe acute malnutrition.  The majority of children in Rio Frio and most GSP partner communities suffer from chronic malnutrition.  This visit and subsequent meetings led to our commitment to bring water filters to the communities.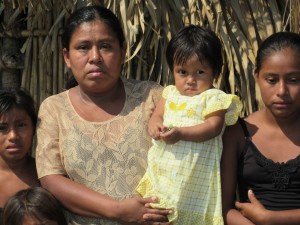 Those who died of starvation and related illnesses after the communities were attacked are not the only ones who have been severely impacted by hunger.  Children who survive chronic malnutrition suffer from extreme long term consequences.  Weakened immune systems, stunted growth, weak bones, decreased IQ, learning disabilities, diabetes, heart disease, kidney damage, and decreased physical capacity for work as an adult are just some of the life-long effects of chronic malnutrition even for people who are eventually able to consistently access sufficient nutrients.
Water-borne illnesses are causing significant injury to members of these communities.  Often the small amount of nutrients parents are able to give their children are negated by water-borne illnesses.  Children and the elderly are also most vulnerable to mosquito-borne illnesses such as malaria.  Families are unable to purchase water filters and mosquito nets to protect their children and elderly.  The government and wealthy "land owners" continue to threaten and exploit communities, making it impossible for them to access such basic goods.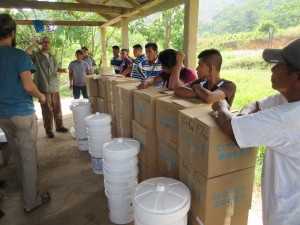 On Friday, May 29, 2015, the Guatemala Solidarity Project delivered 28 water filters to communities in the Polochic Valley.  These filters were evenly distributed among seven communities which have faced continued repression from the government and "land owners."  Since this initial distribution, we have brought hundreds of additional water filters to communities that have survived attacks.  Families have told us that they have seen significant improvement in health while using the filters.  The filters are large enough to filter a significant amount of water, but small enough for a family to carry with them if a government or paramilitary attack forces them to flee.
In 2019, the GSP plans to bring hundreds of additional filters to our partner communities.  You can support us by joining us in Guatemala or by making an urgently needed donation.
School construction

Many of our partner communities have chosen to prioritize school construction.  The government often denies the right of these communities to exist, and uses this as an excuse to avoid its obligation to provide access to education for all children.  The GSP has so far helped with the construction of six schools .  The following video discusses our efforts to keep schools open in 2019 in the villages of Sibija and Xejbal Monte Blanco.
Support for political prisoners
A growing number of indigenous community leaders in Guatemala are being sent to prison on fraudulent charges in an attempt to silence them and terrorize others from organizing to defend their rights and Mother Earth.  Political prisoners have faced torture, hunger and denial of medicine.  Some have been forced to clean urine and feces from bathrooms with their bare hands.
Most political prisoners are rarely visited by family members or friends.  The travel costs associated with visiting the prison are prohibitive to families that are driven further into poverty and hunger by the incarceration of their loved one.  Perhaps more importantly, family members also risk arrest on false charges when they go to visit their loved ones.
For these reasons we have made a commitment to visit political prisoners each month.  Your donations are important so that we can continue to bring them food, medicine, clothes and other important support during these visits.  Because prisoners are generally in a constant state of hunger, our food support has been identified by them as extremely important.  These visits are also important opportunity to communicate indirectly with their families and help coordinate their defense and campaigns to win their freedom.
Emergency support for victims of violence
Most of our partners live in constant danger of attack by military, police, paramilitaries or private security forces.  We have helped pay medical expenses for leaders who have been shot or otherwise injured in attacks.  We have purchased de-worming medicine for children infected after their communities were burned to the ground.  We have given emergency financial assistance to families who have lost everything.  Unfortunately the frequency of attacks against indigenous communities creates an almost constant need for emergency medical support.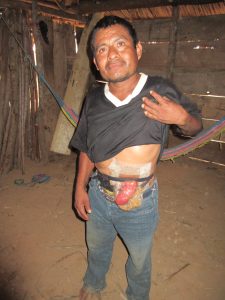 Q'eqchi' community leader Martin Pec needs to use a colostomy bag and has had numerous other health problems after being shot in a paramilitary attack.
Agro-ecological development
The GSP is excited to be supporting an innovative sustainable organic agro-ecological model of agricultural production in partner communities.  This model allows families to maximize production in small plots and make their own organic fertilizer, pesticides and herbicides.  An emphasis is placed on minimizing environmental impact.  Hundreds of families have discussed their interest with the GSP and need your support to purchase seeds, seedlings, low-impact mechanical pumps and other goods to start this important work!  The video below shows the small plot of a family that has already put this system into place.
Support for funeral costs

The GSP has supported burial costs for people killed in recent attacks against indigenous communities.  The GSP has also accompanied indigenous leaders and organizations working on exhumations in military bases and clandestine cemeteries. These exhumations have found hundreds of victims of genocidal violence in the 1980s, and have been used as evidence in numerous legal cases including the January 2016 arrest of 18 high-ranking military officials. Families of victims want to give their loved ones a proper funeral, but many are suffering from extreme poverty. We will continue to give small material support to families as more bodies are exhumed.
The below video shows the return of Arnoldo Chen Poou, one of over 500 disappeared who have been found in clandestine graves in the CREOMPAZ military base in Cobán, to his wife and children, on Father's Day, 2016.
Support for orphans 
In many cases, we have been asked to support orphans whose parents were killed by the government, paramilitaries or private security. One example is the children of Maya Ixil activist Juana Sanchez. Juana lost her land and many loved ones during Guatemala's genocidal civil war. After the Peace Accords were signed in 1996, she organized with other indigenous families to petition for the return of their lands as guaranteed under Guatemalan law. On June 30, 2006, after years of being ignored by the government, Sanchez helped lead over 200 families to participate in a nonviolent occupation of land claimed by the military. With Sanchez's support the occupation formed the community of Sajbuta, building a school and refusing to back down in the face of repeated threats. Then in 2009 Juana was raped and murdered, and her children were left orphaned. Community members support each other in profound ways but most families were already struggling with extreme poverty and malnutrition and were not in a position to care for orphaned children. The community approached us to ask that we stand in solidarity with Juana's children.
GSP donors stepped up and committed to provide the children with a monthly stipend to help them avoid the chronic malnutrition that plagues the majority of indigenous children in Guatemala. Thanks to this support the children were able to get enough to eat and stay in school. We were joyous to see Juana's daughter Catarina Sanchez recently graduate from a nursing program. She will now be able to have a level of economic independence that is rare for indigenous women in Guatemala, and she will do so while helping others in need of assistance. We thank our donors for making this possible.
Unfortunately it is all too common for community leaders to be assassinated, and we need your support to be able to stand in solidarity with their families as well.
We can only accomplish this with your help.  You can make a difference today by writing a check to UPAVIM Community Development Foundation and mailing it to UPAVIM, PO Box 63, Marshfield, VT 05658.  Or donate via our website.  We thank our fiscal sponsor UPAVIM for helping us ensure that your contributions are tax deductible and that all funds (other than bank transaction fees) go to our partners in Guatemala.