Summer Delegation Announcement and Annual Report
Join us in Guatemala May 26 – June 4 or June 25 – July 1
Report on Mayan year Kajib' No'j (February 22, 2016 – February 21, 2017)
The GSP is looking for activists, organizers, teachers, students, journalists, farmers and other people of conscience to join us as we build solidarity with indigenous and peasant communities organizing to rescue and recuperate Mother Earth and their ancestral land rights in Guatemala.  Participate in Indigenous Rights Versus Terrorism and Environmental Destruction, an international solidarity delegation we are organizing from May 26 to June 4.  Or join our intensive solidarity delegation from June 25 to July 1.  Click here for more information
The year Kajib' No'j saw both enormous victories and enormous tragedies for our partners in Guatemala.  Below we have chosen just one issue to highlight for each month of the year.  Please consider standing with our partners by making an urgently needed donation of any size.  All funds go directly to our partners and donations are tax-deductible in the US.
March 2016:  Support for medical treatment for community leader Martin Pec.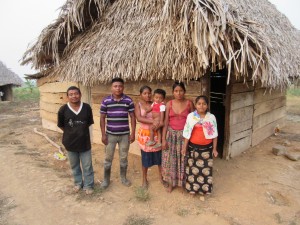 Martin Pec, far left, with his family in front of their home
Martin Pec's house was burned to the ground, crops destroyed and land stolen when the Guatemalan government sent over 1,000 police and soldiers to attack 16 indigenous Q'eqchi' communities in the Polochic Valley in 2011.  Pec refused to be silenced by the attack, and organized to denounce the government's action.  Months later masked men attacked Pec's house again, shooting and severely wounding Pec.  He continues to have significant health problems and uses a colostomy bag.  Thanks to our donors, the GSP is able to help pay for some of Pec's medical expenses.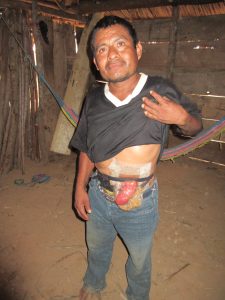 April 2016: Water filters delivered In Panzos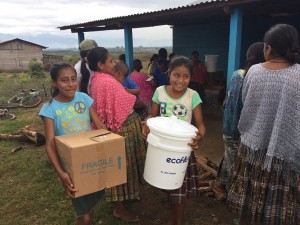 GSP delegates delivered 120 highly effective "ecofilters" to four different communities. These communities have been targeted by transnational corporations working with the government to violently steal their lands and turn them into monoculture export crops like sugarcane and african palm. Hundreds of homes have been burned and lack of access to clean water has caused countless children and adults to become infected with dangerous parasites and bacteria. Their bodies can not properly digest the small amount of food they get, worsening the problem of starvation. We will continue to collect donations to help bring clean water to indigenous communities facing violent repression.
May 2016: Witnessing nonviolent resistance to mining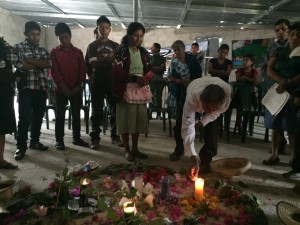 Xinka community leaders hold a traditional ceremony before welcoming GSP activists
GSP representatives were given permission from the Indigenous Xinka Parliament of Santa Maria Xalapan to live in the community of La Paz for one month. Working with APOXEX– an association dedicated to the preservation of Xinka culture with a strong focus on organic agriculture and herbal medicine– we also coordinated meetings in ten different communities. During these meetings we learned about Xinka autonomy, as well as the soil contamination and lack of water that plague these villages. With the increasing effects of global warming and deforestation along with pollution and water theft from mega-projects such as the Escobal silver and gold mine which is directly below the Xinka communities of Xalapan, the people here are left without adequate water. Santa Maria Xalapan presents itself as a community in peaceful resistance to transnational exploitation in the form of mining.
June 2016:  Monthly support for political prisoners continues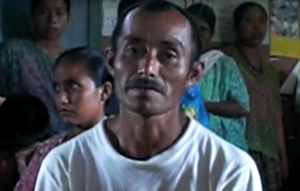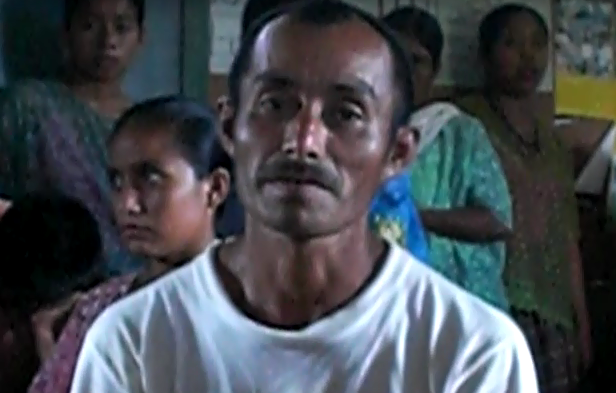 Pablo Sacrab before his arrest
The GSP continued its commitment to visit political prisoners from our partner communities every month. Political prisoners like Pablo Sacrab often face beatings, denial of food and denial of medicine. Sacrab is a Q'eqchi' community leader who has been in prison on fraudulent charges for over six years.  During visits we generally give each prisoner 240 quetzals ($30) to use as they choose, which is often to purchase food. We frequently bring clothes, food and medicine during visits as well.  Please consider making a donation of any size so that we can fulfill these commitments.
July 2016:  Support for funerals of long lost loved ones

The return of Arnoldo Chen Poou, one of the 558 disappeared who have been found in clandestine graves
in the CREOMPAZ military base in Cobán, to his wife and children, on Father's Day, 2016
The GSP has accompanied indigenous leaders and organizations working on exhumations in military bases and clandestine cemeteries. These exhumations have found hundreds of victims of genocidal violence in the 1980s, and have been used as evidence in numerous legal cases including the January 2016 arrest of 18 high-ranking military officials. Families of victims want to give their loved ones a proper funeral, but many are suffering from extreme poverty. We will continue to give small material support to families as more bodies are exhumed.
August:  Continued support for Carlos Guitz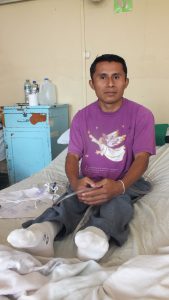 Carlos Guitz has been unable to return home because of continued health complications
On November 8, 2013, private security attacked Q'eqchi' peasants organizing in nonviolent defense of their ancestral land rights and against the construction of the Santa Rita dam, which would flood their houses and fields.  Dozens of homes were burned down, and young community leader Carlos Guitz was shot in the back and paralyzed.  Years later, Guitz has made progress but remains unable to walk and faces numerous medical challenges.  Thanks to your contributions, the GSP has been able to  pay for some of Guitz's medical expenses.
September:  Journalist assassinated in Jalapa
The assassination of journalist and community leader Felipe David Munguia Jimenez on September 4, 2016 was an attempt to intimidate and silence indigenous Xinka organizers.  Munguia was shot point-blank in his home just hours after asking probing questions to government and business representatives at an assembly organized by the Xinka Indigenous Community of Santa Maria Xalapan.  The GSP has stood by Xinka communities and leaders in Jalapa as they have faced threats, violent attacks, arson of their homes, destruction of their natural resources, theft of their land and arrest on fraudulent charges.  Xinka communities continue to defend Mother Earth against exploitation and environmental damage. Munguia will be remembered as a journalist who had the courage to ask difficult questions to those in power.
October 2016:  Arrest and freedom for community leader Maria Cristina Chun Ac

Ac and other community leaders speak out
Maria Cristina Chun Ac was arrested for the second time in the last few years.  Chun Ac is a nonviolent organizer and community leader whose only "crime" is defending the legitimate rights of her community against the interests of a wealthy landowner.  She is from Rincon de San Valentin, located just outside of Purulja, Alta Verapaz.  Chun Ac and others in her community are the children of people known in Guatemala as mozos colonos, who are basically indigenous Maya serfs who lived their entire lives on a large plantation and worked without any financial compensation.  When the community organized to demand their rights be respected, the wealthy landowner and government officials collaborated to threaten and intimidate community leaders.  After the arrest, the GSP joined local, national and international efforts to pressure the government to free Chun.  In part because of our efforts but much more because of the courageous organizing of indigenous leaders, Chun was release that same month.
November 2016:  Historic vote against chemical mining
On November 27th, 98% of the voters of the municipality of San Carlos Alzatate, Jalapa, Guatemala, chose to prohibit any chemical mining activity within their municipal boundaries.  Alzatate is an organized indigenous Xinka-Poqomam community with a history of self government that goes back to the colonial era.  The Indigenous Community of San Carlos Alzatate continues to exist today alongside the local municipal government.  The indigenous leadership organized a petition to force the municipal mayor to call for a binding referendum according to established Guatemalan law for Municipal referendums.  Thus the will of the people to prevent environmentally destructive mining activities in their area must be certified by the Guatemalan Supreme Court and will have the force of law.
December 2016: First communal water deposit constructed in Jalapa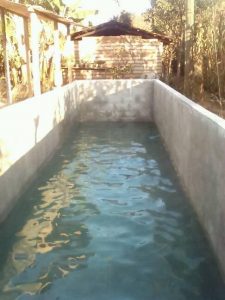 Our Xinka sisters and brothers in Jalapa requested our solidarity in their struggle for water.  Specifically, they need funding to help build permanent communal water deposits.  These indigenous communities are resisting land theft and environmental destruction caused primarily by foreign mining interests.  They tell us that one mine uses as much water in one hour as one family of five uses in 20 years, and they are watching their ecosystems being devastated around them.  They are fighting back by building systems of food production that require minimal environmental impact.  They have secured mechanical water pumps that allow them to irrigate small plots of land without the use of oil or electricity, and they need our support to become even more efficient in their use of water.  With your support we hope to help build several more communal water deposits in the coming year.
January 2017: GSP delegation witnesses indigenous resistance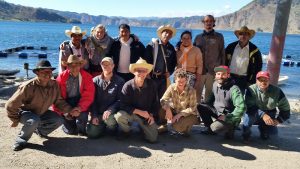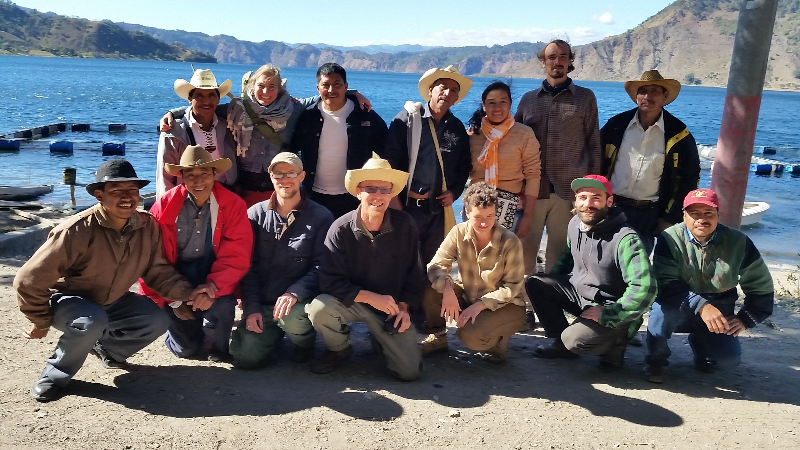 From January 3rd to January 11th, 2017, a group of students, organizers, farmers, and human rights activists from the United States traveled throughout rural Guatemala as part of a delegation organized by the Guatemala Solidarity Project. We were honored and humbled to be invited into communities that continue to resist and organize despite extreme threats to their lives and safety.  We traveled under the principle that solidarity is best created by building long term relationships and listening to the communities most affected by state violence and global capitalism. Three themes emerged from the stories we heard: the role of international and state violence, environmental destruction, and gender-based violence.  Read the delegation report
February 2017: Indigenous organizer Abelino Chub arrested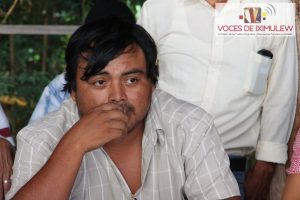 Maya Q'eqchi' human rights defender Abelino Chub Caal was arrested on February 4 and charged with a series of crimes invented by the government.  The GSP has known Chub for years, witnessing his courageous work speaking truth to power and supporting the recuperation of indigenous land and cultural rights.  Chub has worked for over 10 years with the Guillermo Toriello Foundation, focusing on land rights, local development, environmentally sustainable agriculture and the preservation of the memory of the armed conflict in Guatemala.
Chub remains behind bars for the supposed crime of "aggravated land theft" (usurpacion agravada).  Police, soldiers, paramilitaries and private guards are able to burn down indigenous communities and beat and even murder indigenous people with impunity.  Indigenous people who organize nonviolently in support of their ancestral land rights face legal charges.  We will continue to stand in solidarity with Chub and ask you to stand together with us!
Moving forward:  Three actions you can take:
*** Make a donation to the Guatemala Solidarity Project.  Please visit our website and make a donation of any size now!  Please consider signing up on our website for monthly giving.  Because we have many monthly commitments, making a small monthly contribution is especially helpful.  However, one time contributions make a big impact!
*** Participate in Indigenous Rights Versus Terrorism and Environmental Destruction, an international solidarity delegation we are organizing from May 26 to June 4.  Or join our intensive solidarity delegation from June 25 to July 1.
***Join our urgent action list by sending an email to info@guatemalasolidarityproject.org and writing "Add to urgent action list" in the subject line.  We will let you know of important, timely actions you can take in solidarity with our partners.  Often these actions consist of just making a phone call, writing an email or sending a petition.  When organized quickly we have seen these small actions successfully play a role in winning freedom for political prisoners and ending attacks against indigenous communities.