Urgent Solidarity Needed due to Increasing Arrests of Indigenous Leaders
including GSP Board Member: Guatemala Solidarity Project Quarterly Report
September 27, 2022
The Guatemala Solidarity Project is calling for solidarity with our partners in indigenous communities in Guatemala as the US-backed government is using the judicial system to systematically target community leaders throughout the country. Even our own Advisory Board member and long-time GSP collaborator Sofia Tot Ac was arrested recently and faces the threat of years in prison. The Biden administration is pushing multinational corporations to take advantage of the great "investment opportunities" as communities are burned down to make way for "development projects." The GSP is collaborating with partner communities to confront the ensuing health and environmental crises, and we need your solidarity to be successful.
This quarterly report features updates on some of the areas we are working. There are two easy ways you can take action right now in solidarity with our partners in Guatemala. One important way is for people in the US to contact their US House Representative and ask that they sign the Dear Colleague letter condemning the criminalization of Sofia Tot Ac and indigenous human rights defenders in Guatemala. Details on this action are at the end of this report, so you can skip to the bottom if you want to take that action right now!
A second way you can take action right now is by making a donation. No donations are used to support our lobbying efforts. Instead, all donations go directly to our partners to support their priorities on the ground. No funds are kept by the GSP for "overhead" or any other purpose, so donations of any size can have a bigger impact. You can donate via our website (www.guatemalasolidarityproject.org/donate) or by writing a check to UPAVIM and mailing it to UPAVIM, PO Box 63, Marshfield, VT 05658. You can also donate via Venmo @SolidarityGuate (search under business). We thank our fiscal sponsor, the volunteer-run UPAVIM Community Development Foundation, a US 501(c)3 non-profit tax-deductible organization, for supporting us and ensuring that all funds go to our partners in Guatemala.
Below are updates on just some of the areas we are working on. Although this is usually a "quarterly" update, it is our first report of the year. To stay informed more regularly and help us get the word out please also follow us on facebook (GuatemalaSolidarityProject), instagram (GuatemalaSolidarityProject) and twitter (@SolidarityGuate).
GSP Healthcare Solidarity Delegation Witnesses Impact of US-Backed Terrorism
From August 27 – September 2 the GSP led a healthcare solidarity delegation in which we treated over 500 individuals in partner communities. Malnutrition, parasites and bacterial infections were common. Although many of these communities are located near "development projects" receiving millions of dollars of investment, there was no perceptible investment in treating the health needs of local communities.
The Biden administration supports "development projects" with the justification that they provide jobs and opportunities for local populations. We found that the opposite is true. Communities face frequent violence in order to displace them to make more room for resource extraction projects, principally mining operations, hydroelectric dams and African Palm plantations. These projects cause devastating harm to local ecosystems and separate farmers from their land while providing only a handful of local jobs. The production from these projects, such as electricity and biofuel, is exported while local communities do not have electricity, clean water or healthcare.
During the delegation we repeatedly heard from families about the psychological anguish and anxiety they live with from the daily threat of US-backed violence. Nearly all of the communities we visited had faced violent attacks led by the US-trained and equipped Guatemalan police and military. Hundreds of community leaders in the communities we visited have arrest warrants against them in retaliation for their nonviolent organizing. The arrest warrants have a devastating impact, preventing leaders from essential activities like going to the market to sell or purchase goods, attending court hearings regarding the legal ownership of their land, traveling to the department of education to advocate for access to education for their children as guaranteed by Guatemalan law, and related activities necessary for the health and advancement of families and communities.
Many individuals expressed their grief from seeing community members and loved ones murdered or seriously injured in attacks aimed at stealing their land. Frequently people mentioned the anxiety they feel from the constant threat of more attacks fueled by the seemingly endless greed of US-backed corporations looking to steal even more indigenous land.
We traveled with a group of Guatemalan and US health professionals, and provided water filters, antibiotics, parasite treatment, vitamins and other treatment. We encountered many children in various stages of malnutrition and provided medical support and treatment. In some cases this treatment was aimed at preventing them from starving to death, and often the treatment was focused on helping children escape chronic malnutrition.
Children in indigenous communities in Guatemala often die from easily treatable conditions such as pneumonia or a common cold because their bodies are weak due to underlying malnutrition. Fever and diarrhea cause death in malnourished children whose families can not access simple treatment for these conditions. We provided potentially life saving treatment for many malnourished children with illnesses. We need your donations to help our health team in Guatemala continue this essential work.
We realize that the treatments we provided were only a temporary cure, and if the US backed repression and looting of indigenous territory continues these communities will remain in desperation. However we can not stand by idly while our sisters and brothers die of hunger and easily treatable diseases, and hope you will consider standing with us in solidarity via a donation or other related action.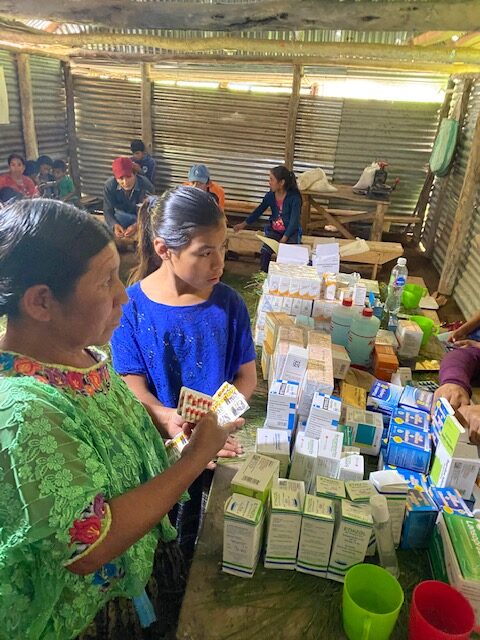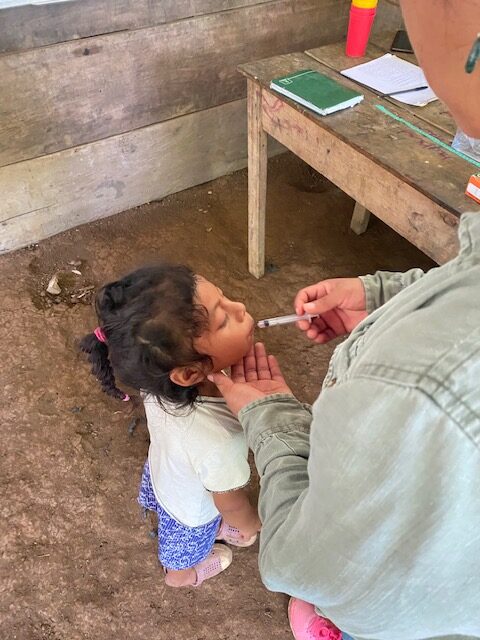 Musicians, Health Workers and All People With Solidarity in their Hearts:
Join Us in Guatemala in January for the Health and Music Solidarity Delegations!
We will be organizing three separate international solidarity delegations in Guatemala in January. Participants are invited to join one, two or all three. The delegation dates are January 10-16, 16-22 and 22-27. These delegations will have a focus on health care and music, but we have a significant need for participants who are not health care workers or musicians.
We are looking for people in solidarity, musicians, nurses, nurse practitioners, doctors, other healthcare workers and students, journalists, video editors, photographers, graphic designers, activists, community organizers, grant writers and others to join us in Guatemala. More details are available at (http://www.guatemalasolidarityproject.org/join-us-in-guatemala/).
Indigenous Xinca Leader Modesto Maldonado Sentenced to 8 Years in Prison, GSP Supports Appeal
On May 6, Modesto Maldonado was sentenced to 8 years in prison and continues to face charges of aggravated land theft and other invented crimes in retaliation for his human rights organizing in Xinca territory. The GSP has collaborated with Maldonado for years, and he has played a significant role in nonviolent organizing in favor of the rights of Xinca people. He has led campaigns to successfully shut down illegal mines and recognize the land rights of indigenous people in Jalapa, Guatemala.
Asuncion Mita Rejects Mine Despite Repression, Misinformation
The Guatemalan government and multinational corporations attempted to expand and convert a gold mine in the municipality of Asuncion Mita into a massive open-pit mine. The mine would cause extensive environmental damage in the area. The government and current Canada-based owner Bluestone Resources insisted that local communities overwhelmingly supported the mine because of the "development and opportunity" it would bring. Despite that they used numerous legal and illegal tactics to prevent a vote regarding the mine.
Local activists courageously organized, and on September 18 nearly 10,000 people voted (more than had participated in the municipality in the previous presidential election) in a special referendum to decide if the mine would continue. Security forces detained area human rights defenders and environmentalists in the lead up to the vote, and also spread misinformation about the mine and its impact on the region. Despite this, over 88% of voters rejected the mine. This was one of dozens of referendums regarding mining and natural resource extraction projects in which indigenous people have consistently and overwhelmingly opposed such "development."
On September 19, Guatemala's Ministry of Energy and Mines issued a statement saying that they would not recognize the results of the referendum. The Biden administration is aggressively looking to "reduce barriers to international investment" in Guatemala while supporting the state security forces that are facilitating the looting of indigenous territory. We will continue to lobby congress to end this horrific strategy that is provoking massive suffering and forced migration, while standing with our partners who are on the frontlines of human rights and environmental defense. The people of Asuncion Mita made their decision extremely clear, and this must be respected.
Indigenous Q'eqchi' Women Sentenced to 75 Years in Prison
In March, Rosa Ich, Angelina Coy y Olivia Mucú were sentenced to 75 years in prison in relation to the death of three Guatemalan marines. The government stated that the marines were killed in a conflict with drug traffickers, although witnesses state the conflict started when the marines assaulted a group of indigenous women. The three women were sentenced only because they are married to the individuals who allegedly killed the marines.
The GSP will continue to visit the women in prison. They have been denied access to medical care and are living in extremely harsh conditions. Nevertheless they have requested that we focus on looking for support for their young children, given that their husbands also received lifelong prison sentences and their children remain in communities suffering from extreme poverty and hunger.
Bernardo Caal Xol Released from Prison
On March 24, Q'eqchi environmental and human rights activist Bernardo Caal Xol was released after spending over four years in prison. Bernardo was arrested in 2018 in retaliation for his eloquent opposition to illegal hydroelectric projects stealing water and land from Q'eqchi' people.
After his release Bernardo stated "I always smiled in this prison because I was sure that one day I would leave and talk to my people again with my head held high because the hydroelectric company Oxec fabricated the charges against me."
Since being released from prison Bernardo has continued his human rights and environmental activism.
Illegal Russian Mine "Reopens" With US Military Support
In January the Guatemalan government announced that the Russian and Swiss owned Fenix silver mine would "reopen" in El Estor. In 2019 and 2020, the Constitutional Court of Guatemala ruled that the mine had been operating illegally in indigenous Q'eqchi' territory for decades and must be shut down. The project and its multinational owners have been accused of using arson attacks, gang rape and assassination of indigenous leaders to illegally expand operations. The court ruled that the mine must remain shut down until the area indigenous population approves the project.
The company and government ignored the ruling and continued to operate the mine, and in 2021 indigenous leaders put their bodies on the line and courageously blocked the road leading to the mine. The powerful US-backed security state of Guatemala responded by attacking protestors, and police and soldiers marched alongside mining equipment to continue the illegal operation.
The government then declared a curfew and Martial Law in the area, making protests illegal and giving the military special powers to raid homes of activists and make arrests. Journalists who covered the violence were arrested, and the homes of plaintiffs in rape and murder cases were raided. It was in this context that the government surprisingly announced in January that indigenous communities "had been consulted" during the State of Exception and "had expressed their support for the mine," although local indigenous communities and organizations were barred from participating in this alleged consultation. The government officially "reopened" the mine, although the operation had never even closed.
The GSP and allies have lobbied the US government to block funds to the Guatemalan military, and have received support from a small but growing number of US congresspeople. Recently US congress has given billions of additional dollars to the defense industry to support war against Russia in Ukraine. They have stated that their motivation is concern for the wellbeing of children and human rights, and has nothing to do with the military industrial complex and lobbying of weapons manufacturers. At the same time, congress has also recently approved legislation to continue funding the Guatemalan military to violently displace indigenous communities in order to expand illegal Russian mines in Guatemala.
Please call your members of US congress and ask that they oppose funding to the Guatemalan security state. Guatemalan police, military and intelligence officers are systematically repressing indigenous communities and supporting the theft of indigenous land, and should not receive equipment, training or other support from the US government.
Jose Antonio Pacay Arrested, Beaten after Child Murdered
for Opposing US Financed Hydroelectric Dam
On June 29 of this year, indigenous Q'eqchi' community leader Jose Antonio Pacay was arrested and severely beaten due to his organizing. In 2008, the Guatemalan government awarded a license to the Santa Rita hydroelectric dam without consulting local populations. The dam would steal land and resources from Pacay's home community Monte Olivo, as well as dozens of indigenous communities in the area. The US agreed to fund the dam despite the significant violation of indigenous rights and the threat to local environments.
As local communities rose up in massive, nonviolent resistance to the construction of the dam, the US helped the Guatemalan government build a military base next to the proposed dam. Systematic repression ensued, including the arrests of community leaders and the murder of Jose Antonio Pacay's 11-year old son David Estuardo Pacay. The US-backed terror campaign was ultimately unsuccessful, as thousands of people used roadblocks and other courageous nonviolent tactics to force the government to cancel the construction of the dam in 2015.
In 2021 the government began targeting community leaders in the area again, and appears to be preparing another attempt to build the dam. Pacay's arrest and beating this June was particularly devastating given the suffering already caused on his family. The GSP visited Pacay in prison and helped win his freedom. Pacay is currently out of prison but faces ongoing legal accusations based on his human rights leadership. Please consider making a donation of any size to support the legal defense of human rights and environmental defenders in Guatemala.
GSP Advisory Board Member, Indigenous Leader Sofia Tot Ac
Arrested and Threatened with Years in Prison
Sofia Tot Ac was arrested under false pretenses on June 19, 2022. Sofia has collaborated with the GSP for over 15 years and is part of our Advisory Board. She directly coordinates much of our work on the ground. Sofia was released on bail, but has a hearing on October 6 and is facing the possibility of years in prison for the ridiculous charges of "aggravated theft" and "aggravated usurpation of protected areas." The charge of stealing land in protected areas is especially ridiculous given Sofia's leadership in denouncing illegal mining and hydroelectric operations in protected areas.
Due to Sofia's long, well documented history in human rights defense and service work, we have gained support for her case in US congress and need you to take action to make this support most effective. A script for contacting members of congress is below.
Sofia holds numerous leadership positions at the community and regional level. She is a coordinator with the Achi', Q'eqchi', Poqomchi, and Kaqchikel Mayan Peoples' Council. She is the founder of the Motherhood Home in Salama, Baja Verapaz. She is the coordinator of Social Outreach for the Catholic Church in the Parish of Purulhá. She is a representative of the Q'eqchi' People in the State and Regional Development Council. Sofia is a leader with several other organizations, and her arrest was in retaliation for her commitment to human rights.
Take action: Call US congress now!
Call your representative in the US House of Representatives and ask them to sign the Dear Colleague letter denouncing the criminalization of Sofia Tot Ac and other indigenous leaders in Guatemala. This letter to US Secretary of State Antony Blinken will be most impactful if it is signed by many members of congress, and we need your support to make that happen.
To contact your member of congress, call the congressional switchboard at (202) 224-3121 and ask to be connected with your representative.  You can also call Representative Raul Grijalva (202-225-2435) and Representative Chuy Garcia (202-225-8203) to thank them for taking the lead on this letter.
Call script for requesting support for Sofia Tot Ac:
"Hello my name is ______ and I am calling to request that the Representative sign on to the dear colleague letter denouncing the criminalization of Sofia Tot Ac and other indigenous human rights defenders in Guatemala. Guatemala is systematically targeting indigenous human rights defenders while continuing to receive significant US financing, training and equipment to do so. I know the deadline is coming very soon, and I request that your office contact the offices of Representatives Grijalva or Chuy Garcia to sign on or discuss any questions. When can you let me know if the Representative has decided to stand with indigenous communities in Guatemala?"
Emails are also important, but given the quickly approaching deadline to sign the letter they should go to a specific staff member assigned to work on human rights, foreign affairs or defense issues. You will likely need to call the congressperson's office in order to obtain this contact information.