The indigenous q'eqchi' peasants of the community San Miguel Cotoxja have an ancestral right to their land.  Their parents and grandparents lived on the land, and their basic rights were repeatedly violated.  Now the government is attempting to violently evict residents, leaving them in a struggle to survive so that wealthy land owners can use the land to become even more wealthy.  But the children and adults of San Miguel Cotoxja deserve dignity and life.  We will not sit by idly while the government commits this atrocity.
Please sign the petition calling for justice for San Miguel Cotoxja!  We have already collected hundreds of names and are now launching the online version of the petition.  Please sign and spread the word!
Interview with San Miguel Cotoxja community leader Rumalda Pop:
Video of March 2011 attacks against communities neighboring San Miguel Cotoxja:
Join our solidarity delegations in Guatemala next summer: Indigenous Rights Versus Terrorism and Environmental Destruction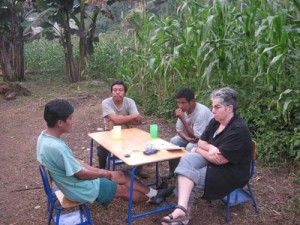 We are looking for activists, organizers, teachers, journalists, students, farmers and other people of conscience to join us this summer as we build solidarity with indigenous and peasant communities organizing to rescue and recuperate Mother Earth and their ancestral land rights in Guatemala.  Click here for more information
Donate now to support our partners in Guatemala.  All funds go directly to our partners as we are a volunteer-run organization.