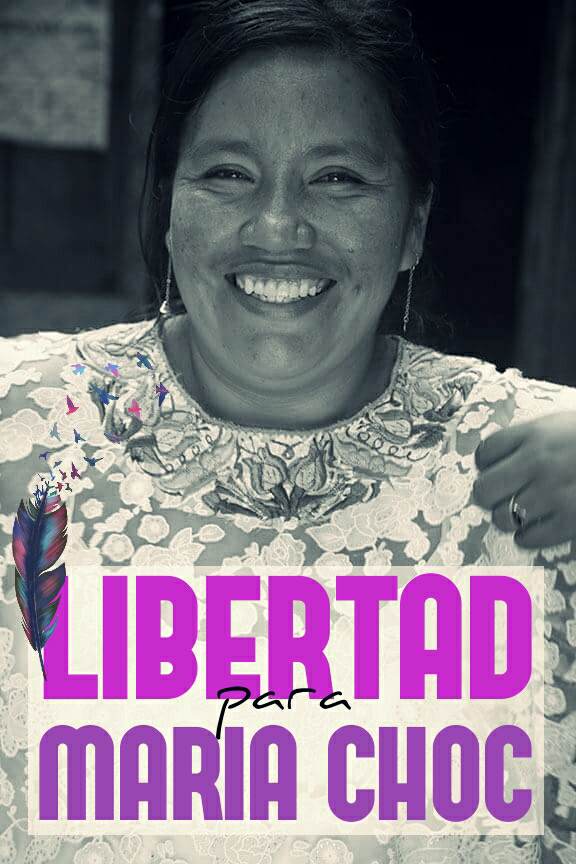 (January 19, 2018 update: Maria Choc has been released in a major victory for the movement to protect Mother Earth and indigenous rights!  Thanks to all who participated in this campaign.  Unfortunately Maria still faces charges, so this struggle is not over.  We will be sending updates in the coming days.)
URGENT: Human Rights Defender Maria Choc Arrested
January 17, 2018
GuatemalaSolidarityProject.org
The GSP strongly condemns today's arrest of human rights defender Maria Choc.  Choc is an indigenous q'eqchi' activist who has been committed to nonviolent organizing in defense of indigenous rights and Mother Earth for many years.  She had just left a court hearing in which she was supporting an indigentous community in a land conflict as a translator when she was arrested.
Maria's brother Ramiro spent over five years in prison on fraudulent charges, and her brother in law Adolfo Ich was murdered by the head of security at a local mine.  We are extremely concerned about Maria's immediate safety given what has happened to her family members as well as because of the use of rape against indigenous women and female prisoner.  We will be sending updates in the coming days.  PLEASE TAKE ACTION IMMEDIATELY
Suggested actions:
1) Contact the Guatemala Embassy in Washington, DC.  Because their military is armed and trained by the US and the resources they steal from indigenous communities are primarily sold in the US, the Guatemalan elite are concerned about their public image in the US and have occasionally responded to public pressure.  Contact  Yanira Gutierrez at Ygutierrez@minex.gob.gt or 202-745-3873 (If you call please ask to speak with consular Yanira Gutierrez)
Sample message:
"Dear Consular Gutierrez,
I am contacting you to denounce the arrest of human rights defender Maria Choc.  She was arrested Wednesday, January 17 in Puerto Barrios shortly after leaving a hearing in which she was supporting indigenous communities as a translator.  Choc has a long public record of leadership and advocacy in support of indigenous people and environmental justice.  It appears that she is being targeted by the government because of her nonviolent organizing.  Please investigate this matter and let me know why the government has arrested a human rights defender, and what is being done to ensure her physical safety while in prison.
Sincerely,
________"
2) Contact your member of congress or parliament and ask them to support human rights defender Maria Choc!
Sample message:
"Hello my name is ______ and I'm calling regarding the January 17 arrest of human rights defender Maria Magdalena Cuc Choc in Puerto Barrios, Guatemala.  Maria is a prominent human rights leader who has spoken out courageously against repression of indigenous communities and environmental degradation.  Just before her arrest she was supporting an indigenous peasant community in court as a translator.  I am extremely concerned about her safety and ask that your office enquire for more information and pressure the government of Guatemala to guarantee her safety."
3) Donate to the GSP.  As a volunteer-run organization, all funds go to our partners in Guatemala.  Indigenous leaders are often targeted with violence and judicial repression, and there is an urgent need to support political prisoners with food and medicine.  We also collaborate with other organizations to help pay critically needed legal fees that have helped win freedom for courageous indigenous leaders in prison for their organizing.  Click here to donate online, or write a check to "UPAVIM" and mail to UPAVIM, PO Box 63, Marshfield, VT 05658.  We thank our fiscal sponsor the UPAVIM Community Development Foundation for helping us ensure that all funds go to our partners and that donations are tax-deductible in the US.
4) Join our urgent action email list to receive updates and participate in ongoing actions.  To join our urgent action list email info@guatemalasolidarityproject.org with "Add to urgent action list" in the subject line, and we will let you know of important actions to take immediately after emergencies such as the arrest of a community leader or an attack on a community.
5) Join us in Guatemala.  The GSP is looking for teachers, students, organizers, activists, farmers, musicians and others to join us in Guatemala as we continue to organize in solidarity with indigenous and peasant communities to rescue and recuperate Mother Earth and their ancestral land rights.  The next best opportunity for new GSP collaborators will be our 8-10 day solidarity delegation surrounding the May 29 40th Anniversary of the Panzos massacre.  We will be joining our partners in commemorating this anniversary, as well as visiting other partner communities and organizations.  We invite you to join and help document and denounce human rights violations, build personal and institutional relationships, facilitate safe meeting spaces and create concrete action plans aimed at advancing our partners' struggles.  For examples of previous experiences please view http://www.guatemalasolidarityproject.org/join-us-in-guatemala/   If you are interested in joining us and our partners on the ground please email us at info@guatemalasolidarityproject.org and let us know a little about you, your interests and your availability.