Revolution in Guatemala?
Guatemala Solidarity Project Quarterly Report
First Quarter of the Mayan Calendar Year Oxib' E
Three E' One Pop – Three Aq'ab'al Eleven Tz'ek
February 21 – May 23, 2015
The first quarter of the year Oxib E' (February 21, 2015 – February 20, 2016) saw a historic uprising of the people of Guatemala, the downfall of dozens of powerful members of the government, and loud and increasing demands for the resignation of President and US Army School of the Americas graduate General Otto Perez Molina.
During the same time thousands of indigenous peasants were attacked in violent, illegal "evictions" in order to further the plundering of Guatemala's people and natural resources by a small national and international elite. Hundreds of peasant leaders were forced into semi-hiding by fraudulent arrest warrants based on their activism.
(For more information and to take action visit www.GuatemalaSolidarityProject.org)
Investigations by the International Commission Against Impunity in Guatemala (CICIG) and large-scale protests throughout the country combined to force the resignation of Vice President Roxana Baldetti on May 8, 2015.
A historic ruling on May 16, 2015 sent 18 members of the PNC (National Civil Police) to prison for the murder of three indigenous peasants. The murders occurred in August, 2014 when Otto Perez Molina sent over 1,000 police to attack GSP partner community Monte Olive and other indigenous communities in the region.
Monte Olive has successfully organized to prevent the theft of their lands by multinational corporations. The government again chose to use violence to support wealthy criminals. Dozens of homes were burned to the ground, peasant leaders were beaten and arrested, and three were murdered.
Many national and international organizations, including the GSP, denounced the attacks. The pressure helped lead to the imprisonment of 18 members of the police force. The historic ruling is rumored to have already made many police refuse to participate in additional attacks against indigenous peasant communities.
Five cabinet members have left office in recent weeks because of various corruption scandals. A ruling against former Minister of Energy Mines, Erick Archila, denied him the right to leave the country. He is accused of various crimes, including corruption related to the government's attempts to steal land from q'eqchi' peasants and build the proposed Xalala hydroelectric dam. The President of Guatemala's Social Security Institute and the President of the Central Bank have also been arrested.
It is unclear if the growing protests will reach their goals of removing President Perez Molina and other corrupt officials from power, reforming the constitution, creating a more just distributions of wealth and changing the rules governing Guatemala's ultra-corrupt and non-democratic political parties. It is clear that military and corporate elite are positioning themselves to take advantage of the changes. Shortly after VP Roxana Baldetti stepped down, President Otto Perez Molina and Congress named right-wing extremist Alejandro Maldonado as the new Vice President. Maldonado has a long history of collaboration with Guatemala's corrupt and murderous elite. He was a fascist leader in the 1960s and in the 1970s was a member of Dictator Carlos Arana Osorio's cabinet. He later became a Constitutional Court judge and in 2013 ruled to overturn ex-dictator Efrain Rios Montt's conviction of genocide for massacres against indigenous civilians.
The GSP will continue to work in solidarity with our partners as they stand courageously for justice and radical change in Guatemala. The following are some of the struggles we have been involved in during the past 3 months.
Indigenous Community Leader Timoteo Chen Remains in Prison; Dozens from his Community Have Arrest Warrants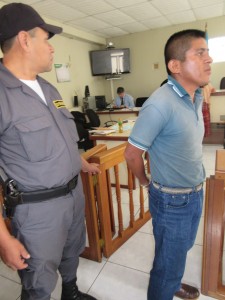 Political prisoner Timoteo Chen Tun is a community leader and health worker who should be honored for his longstanding commitment to others. Instead Chen is in prison for organizing nonviolent action against the theft of indigenous lands by the company Hidro Santa Rita.
Chen has now been in prison for over a year. Representatives of Hidro Santa Rita have visited him in prison to threaten and pressure him to sign documents in their favor. They have also visited and threatened his family.
On May 14, 2015 GSP activists attended a hearing for Chen and witnessed the extreme corruption of the District Attorney's office. Chen is being charges with murder, although at the time of the murder he was in a public meeting with a delegate of the Inter-American Court of Human Rights. Chen took a leadership role at the meeting. Photographs, numerous witnesses and other evidence prove without a doubt that he was there. Yet the government has been able to keep him in prison despite the overwhelming evidence.
Chen was arrested while attending class to become a pharmacy technician. He is one of the few health workers in the area and has been doing this work for over 10 years. His arrest has had a deeply negative impact on healthcare in the region.
GSP activists visit Chen in prison at least once a month to provide moral support. During each visit we also give him a small monetary support to assist in purchasing food or however he chooses. Inmates are supposed to be fed but often do not get three meals a day and/or are left hungry. We also purchased a pair of shoes for Chen.
We are gathering signatures calling for Chen's freedom and ask that you
add your name to the petition.
Pablo Sacrab Remains in Prison While Efrain Rios Montt is Free
On December 28, 2010, humble community leader Pablo Sacrab Pop was arrested on fraudulent charges. He has remained in prison despite lack of evidence against him. He has faced violence, denial of food and denial of medicine while in prison in Coban.
We will continue to visit Pablo every month but it has already been too long!
Please sign the petition calling for freedom for Pablo Sacrab and justice for his community Saquimo Setana
In the cases of both Pablo Sacrab and Timoteo Chen the public prosecutor's office has no evidence and has repeatedly suspended hearings at the last minute and invented new charges in order to keep them in prison.
While these great men continue in prison waiting for a fair trial despite having committed no crime, former genocidal dictator Efrain Rios Montt remains free. On May 10, 2013 Montt was convicted of genocide and sentenced to 80 years in prison. Ten days later the ruling was overturned. On January 5, 2015, the trial resumed, but was immediately suspended when Montt's lawyers filed a complaint against one of the judges for supposed bias. Although the complaint was later rejected, it did delay the trial.
It is deplorable that Montt remains free on technicalities for the crime of genocide while Sacrab, Chen and other political prisoners remain in prison on technicalities for crimes they did not commit. The GSP will continue to visit political prisoners each month and organize for their freedom.
GSP Collaboration Helps Win Freedom for Mariano Caal
On March 27, 2015, Mariano Caal Coc was arrested despite committing no crime. The 22 year old's only "crime" was being an indigenous peasant. Caal is from the community Nimla Sa'chal near Coban, Alta Verapaz. Wealthy "land owner" Saul Girón Zúñiga has been trying to consolidate his wealth by stealing land from the community, and he has the support of the corrupt public attorney's office. Just like many of our partner communities, community members of Nimla Sa'chal live with the permanent terror of being arrested at any moment – while going to sell or buy food at the market, going to visit family, or like Mariano, going to work.
Fortunately our allies were able to immediately mobilize legal action in order to push for Mariano's release. This would not have happened without the support of approximately $250 from the GSP. Mariano was released March 31.
We thank our donors for making this possible. We are in desperate need for donations to support an emergency fund for cases like this. We have seen that immediate legal action can be effective in winning quick release for political prisoners. When this doesn't happen, innocent community leaders can pass years in prison while the government adds additional fraudulent charges.
Much of the legal funds we give pay for travel to court and filling of paperwork. The lawyers we work with are risking their lives to challenge corrupt businesses, land owners and public prosecutors. They earn significantly less than they could by siding with the wealthy. Still the relatively small charge for such legal action is not affordable for indigenous peasants suffering from the theft of their lands and access to only jobs that pay even less than Guatemala's $5/day minimum wage. Please consider making a contribution right now by visiting our website.
Catarina Sanchez Begins Nursing School / GSP Continues Support for Sanchez and Raymundo Families
We are joyous to see young Catarina Sanchez enter nursing school with the support of GSP donors. Catarina's mother, indigenous Ixil activist Juana Sanchez, was raped and murdered in 2009. Juana was a leader of the community Sajbuta in Bisan, El Quiche. Juana lost her land and many loved ones during Guatemala's genocidal civil war. She organized with other indigenous families to petition for the return of their lands as guaranteed under Guatemalan law, but the state never responded. On June 30, 2006, Sanchez helped lead over 200 families to participate in a nonviolent occupation of land claimed by the military. With Sanchez's support the occupation formed the community of Sajbuta, building a school and refusing to back down in the face of repeated threats.
When Juana was murdered her children were left orphaned. GSP donors stepped up and committed to provide the children with a monthly stipend to help them avoid the chronic malnutrition that plagues the majority of indigenous children in Guatemala. This year we are particularly happy as Catarina has decided to begin nursing school with the help of a generous GSP donor. This career will not make Catarina wealthy, but it will allow her to save lives while earning enough to be independent.
After the death of Sajbuta community members Josefa Solis Raymundo and Juan Brito Raymundo left their four children orphaned, the community asked us to make funding these children a priority as well. Community members support each other in profound ways but most families are already struggling with extreme poverty and malnutrition and are not in a position to care for four young children. For this reason we have increased our fundraising efforts and have committed to make a small monthly contribution in support of the Raymundo children.
Thousands of Q'eqchi' Peasants Reoccupy Land Stolen by Agro-Export Companies
On February 26, dozens of brave leaders of the community Bella Flor nonviolently occupied land that they were violently evicted from in 2011. The Inter-American Court of Human Rights ruled in the community's favor after the evictions, but the Guatemalan government has refused to recognize their rights. After years of continued repression and negotiations with a dishonest government, the community decided to squat on the land and risk facing greater violence.
Desperate hunger, extreme poverty and knowledge of their rights has also forced GSP partner communities Rio Frio, Parana, San Miguel Cotoxja, El Rodeo and Rio Polochic II to reoccupy stolen lands. After the 2011 attack much of this land was used to grow sugarcane and African palm. These crops are in large part used to fill gas tanks in foreign countries, while the bellies of the original inhabitant of the land remain empty. The GSP is coordinating with these communities to demand recognition of their land rights. We are also mobilizing to purchase water filters and combat starvation in the communities.
Government Advances Hydroelectric Plans Despite Causing Violence, Poverty, Environmental Destruction and No Energy for Guatemalans
The administration of President Otto Perez is pursuing the construction of dozens of massive hydroelectric plants throughout the country. The government argues that the dams will provide jobs and energy for Guatemalans without harming the environment. The real impact of the dams is very different.
The dams would flood the lands of tens of thousands of indigenous peasants and leave them in extreme poverty. The amount of jobs created would be significantly less than the jobs taken because of the flooding of workplaces.
The dams would not serve to bring electricity to the people of Guatemala. Guatemala already produces enough electricity to supply the nation. Communities that have suffered massacres and loss of land for the creation of dams in the past remain without electricity. The dams would instead be used to create electricity to sell on the international market.
These are not small community hydroelectric plants. These are massive plants that destroy local ecosystems that indigenous communities have protected for centuries. The multinational corporations that will own them have no interest in protecting the environment and their construction will cause irreversible harm to Guatemala's immense biodiversity.
The GSP is working with numerous communities, leaders and political prisoners who are facing government threats and repression for speaking the truth about these large-scale hydroelectric plants. We will continue to work directly with communities to support grassroots sustainable development with a minimal environmental impact.
Cancer Treatment for Courageous Activist
One of the more courageous activists we have worked with was recently diagnosed with cancer. He continues to risk his life working with great efficiency with indigenous and peasant community leaders. The GSP paid approximately $250 to support some of his medical costs. His name will remain anonymous for now for security reasons.
"Alliance for Prosperity" Appears to be Another "Alliance of Wealthy Criminals"
The White House has been pushing a new billion-dollar "aid" package to Central American it calls the "Alliance for Prosperity." The funds are supposed to be a response to press coverage of minors escaping poverty and violence in Central America and entering the US by the thousands. President Obama has said he wants to help Central Americans stay in their home countries by supporting development and job creation in Central America. Vice President Joe Biden spent two days in Guatemala in March to move the initiative forward.
While many details haven't been released it appears obvious that the "Alliance for Prosperity" is nothing but another deal between international elites that will make it easier for wealthy individuals and corporations to exploit poor people and natural resources. While in Guatemala Biden met only with business leaders and their representatives. Analysis by our partners in Guatemala show that as currently discussed the "aid" will primarily go to support corporations that are paying below Guatemala's horrible $5/day minimum wage, repressing unions, stealing land from indigenous communities and destroying rivers, mountains and forests.
The GSP will continue to monitor the "Alliance for Prosperity" and work to minimize its negative impact on the people of Guatemala.
Nueva Vida Attacked; Q'eqchi' Leader Manuel Choc Arrested
In April, Q'eqchi' peasant community Nueva Vida was attacked and burned down by police. Days later Q'eqchi' peasant organizer Manuel Choc was arrested shortly after meeting with government officials about the case. The GSP quickly mobilized to provide Choc with a small monetary support. Prisoners can use these funds as they see fit, but often new prisoners are required to make a payment to corrupt guards or face extreme brutality and living conditions. We do not want to support such guards but we also realize the horrific reality of the situation for political prisoners. Choc remains in prison on fraudulent charges of theft and "usurpation." The GSP will continue to call for his immediate freedom and will visit him each month in prison until then.
Support for CICIG a Key Part of GSP Lobbying Efforts
Although no donations are used to support lobbying efforts, GSP activists are escalating our efforts to pressure US Congress on several important issues. Your support is key. Just by calling your members of Congress and requesting that their office meet with the GSP you can help make a difference. Or if you are coming to DC you can set up a meeting with you, the GSP and your member of Congress.  Click here to take action now!
CICIG, the International Commission Against Impunity in Guatemala, has played a key role in the recent series of arrests and resignations of government officials. While not perfect, it is clearly the most independent judicial body in Guatemala. It stands apart from Guatemala's blatantly corrupt judicial system and has repeatedly shown the ability to side with the truth instead of with the elite criminals who routinely buy judges. Military and business groups have fought hard to close the CICIG, which is in part funded by the US. With your help we will meet with dozens of members of Congress this year to assure that funding continues.
Other lobbying priorities include closing the School of the Americas and opposing arms shipments to the Guatemalan army. We are also opposing the Trans Pacific Partnership (TPP), a massive trade agreement proposed by Congressional Republicans, President Obama and their corporate sponsors. Guatemalans strongly opposed the Central American Free Trade Agreement (CAFTA) with the US in 2006, but it was passed amidst intense repression. Our partners have seen the devastating consequences of CAFTA: increasing hunger, poverty, and concentration of wealth. Although TPP will less directly affect Guatemala, it will still give enormous power to the same corporate forces that are ravishing Guatemala, as well as advance the process of human caused climate change.
Martin Pec Waits for a Hospital Bed
Q'echi' peasant leader Martin Pec was shot in the middle of the night of August 9, 2011. Masked paramilitaries attacked the community Parana, burning down houses and injuring several community members. Pec was then arrested and charged with the murder of regional peasant leader Margarita Che, although she had been killed by paramilitaries. Local and international organizations, including the GSP, mobilized for Pec's release. He was released after spending several months in prison, but years later he continues to suffer from injuries acquired in the attack.
Pec must use a colostomy bag and is unable to do the field work his family once depended on. The GSP and other organizations have supported many of his medical needs, and he is now waiting for a surgery that would end his dependency on colostomy bags. Unfortunately the regional hospital has refused to make a bed available. Recently GSP activists met with hospital administrators and we are hopeful that Pec may finally have surgery soon.
Moving Forward
From May 25 – June 4, 2015, the GSP will be organizing an international solidarity delegation. We will be visiting indigenous and peasant communities and leaders throughout the country who are organizing to rescue and recuperate Mother Earth and their ancestral land rights. The delegation will release a report by mid-June with our findings.
There is an urgent need for donations. Please consider making a donation of any size. All contributions are tax deductible and all funds go to our partners in Guatemala.