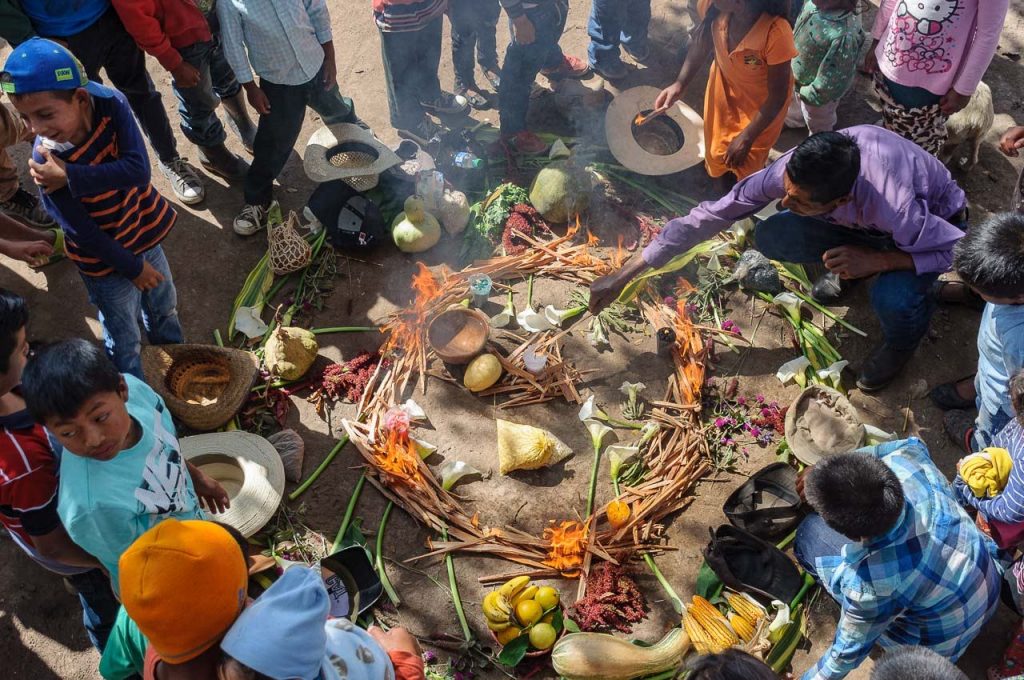 The above picture is from an earlier Xinca ceremony attended by GSP activists near the site of the attack
March 21, 2020
The Guatemala Solidarity Project urgently condemns last night's attack on the indigenous Xinca community La Virgen in Jalapa. Arminda Jimenes Hernandez, Adonis Jimenes and 15 year-old Angel Otoniel Hernandez were murdered when paramilitary forces invaded the community around 10:00pm. The attackers said they "would only kill some people tonight" but they would return to massacre the rest of the community if they did not leave their homes and permit retired Colonel Eric Molina to steal their land.
The community La Virgen is not only struggling for their own rights, but they are also on the forefront of courageous organizing of Xinca leaders which have won major victories in the movement to protect Mother Earth. On November 27th, 2016, a public referendum was held in which 98% of voters of the area municipality of San Carlos Alzatate, Jalapa, chose to prohibit any chemical mining activity within their municipal boundaries. In 2017 the Xinca movement forced the suspension of the Escobal silver mine, one of the largest mines in the Western Hemisphere. The US embassy has pushed the Guatemalan government to "protect investors" while continuing to train and equip the repressive Guatemalan military.
The GSP calls on the Guatemalan government to take immediate action to guarantee the safety of community members and to conduct a swift investigation into Colonel Molina. We ask for a complete investigation into corruption related to Molina's illegitimate claim of ownership of massive amounts of land in indigenous Xinca territory.
We also call on the United States embassy to immediately disclose all ties with Colonel Molina, including training and provision of military equipment. We call on the US embassy to immediately condemn the continued theft of indigenous land in Guatemala by current and former military officials. We call on transparency from the US embassy in disclosing links between US military support and massive theft of land in indigenous Xinca territory. We call on the US embassy to immediately withdraw support for illegal mining in Xinca territory and to respect the right of self-determination of indigenous people.
We call on members of US congress to immediately end US taxpayer support for the illegal theft of natural resources from Xinca territory. We call for the passage of the Chixoy International Financial Institution Accountability Act.
The Guatemalan government has suspended public transportation and is enforcing a 4:00pm curfew in response to the COVID-19 pandemic. However the government has not said if they will stop arson attacks against indigenous communities, such as the March 11 attack against the Q'eqchi' community San Jose in which all homes were burned to the ground. In addition to the horrific health crises that are always created by such attacks, mass forced displacement can also cause the spread of communicable disease. The US government must radically change its policies and pressure the Guatemalan government to end arson attacks against indigenous communities.
Suggested solidarity actions for concerned people:
1) Donate
We are a volunteer run organization, and 100% of donations are sent to our partners.  Our partners also prioritize where funds go.  We thank our fiscal sponsor, the UPAVIM Community Development Foundation (also volunteer run), for helping us ensure that your contributions are tax deductible and that all funds go to our partners in Guatemala. We are currently mobilizing to support the families of Arminda, Adonis and Angel as well as to support the safety of other community members. To donate visit http://www.guatemalasolidarityproject.org/donate/ or please make check out to "UPAVIM Community Development Foundation" and mail to UPAVIM, PO Box 63, Marshfield, VT 05658.  Please write "GSP" in the notes/memo section of the check.
2) Call and/or write your US House Representative
If you are in the United States, please call and/or write your House representative and ask them to co-sponsor the Chixoy International Financial Institution Accountability Act.  Sample text for this ask:  "My name is ____ and I live in your district. I would like your office to sign on as a co-sponsor to the Chixoy International Financial Institution Accountability Act.  This legislation directs US representatives of multilateral development institutions to vote against funding of projects that ignore human rights violations.  It is being led by Representative Jesus Garcia and also supported by Representative Jan Schakowski. I know that in Guatemala indigenous leaders are being murdered and natural resources are being stolen from indigenous territory with the support of US taxpayer dollars. Please support they Chixoy Act to help prevent this from continuing."