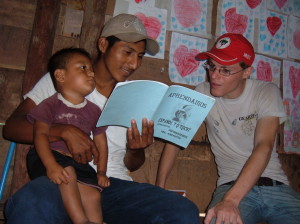 GSP activist Tristan Call views a Spanish/Q'eqchi' phrase book with a community member in the Saquimo Setana school before it was burned down.
¨They came into my house at 3:00 am, fired three shots, threatened my children, and tied a rope around my neck.¨ Saquimo Setana community leader Crisanto Cuc Xol on November 2013 attacks against the community.
"Every one of us has the right to return to our land – this land is ours and we will return"
– Regional q'eqchi' peasant leader Ana María Sacrab, who is from Saquimo Setana
Sign the petition demanding justice for Saquimo Setana
Decades of arson attacks, police beatings, illegal arrests, extended imprisonment, torture, illegal evictions, corruption, threats, hunger and other forms of terrorism have finally succeeded in disappearing the community Saquimo Setana and opening the land for destruction and profit for a wealthy few.  Families from the community are currently dispersed and struggling for survival.
Prisoners have faced beatings, denial of food and denial of medicine.  They have been forced to clean feces with their bare hands and sleep on the cold cement floor of the Coban prison. The elementary school was burned down, and instead of studying children are fighting increasing malnutrition. We stand with members of the community in their struggle to survive displacement and regain their town.
Saquimo Setana is located in the Coban region of the department of Alta Verapaz in northeastern Guatemala. For decades the families of Saquimo Setana were forced to work for no pay on a plantation owned by a wealthy family with the last name Garcia. Community members purchased their land over twenty years ago and have documentation to prove the purchase.  But the corrupt Guatemalan government is supporting the illegitimate land claims of the wealthy Garcia family.  The authorities are supporting the claim to the land by the Garcia family, who also claim at least seven large estates in the area. The Garcia's do not have legal documents proving their claim, but they do have money to pay off government officials. It might not take much. The government is already supporting multinational corporations and local elite in a systematic campaign of repression against leaders of the Committee of Peasant Unity (CUC), which the community has organized with.
It is true that the Garcia's were legal owners of the land many decades ago, and that community members and their ancestors were workers on the plantation.  During that time indigenous Guatemalans were required by law to work on plantations and carry special identification cards detailing this work – if they did not they were forced to do extremely difficult and dangerous work clearing roadways through Guatemala's mountains and jungles in order to support the shipment of the country's natural resources to the United States.
While Guatemalan law calls for land to be redistributed to the families of former exploited workers, the families of Saquimo have been ignored. With incredible work ethic and dedication they made frequent trips to Mexico to work on papaya plantations, saving enough money to purchase part of the plantation in 1987.  The community worked to improve the land, including building a school and developing a cardamom crop. Cardamom is a valuable perennial that takes years of care before it begins to produce. Cardamom can also be grown as a shade crop, meaning forests can be left largely intact.
As the families worked to improve their lives, they also faced years of attacks by the Garcia family. In many of these attacks homes were been burned down, residents were assaulted and community leaders were arrested on fraudulent charges.  The attacks most commonly occured between September and November when the community harvests the cardamom which it depends on for survival.
In the late 1990s the Garcia family forced the community to move to the other side of a river running next to their land. The community, not wanting more violence, moved across the river, abandoning their cardamom plants to the Garcia family. The wealthy family harvested the cardamom that had been planted by the community and built a large vacation home on the shores of the river with the profit. When the cardamom was no longer productive, they cut down the plants, clear-cut the small forest the community had protected and began to use the land to graze cattle.
The community lived in great danger on the other side of the river, on the side of a steep hill with frequent mudslides. The corrupt Guatemalan government supported the attacks, often by participating directly in them and also by arresting community leaders.  Prisoners were frequently told that they would only be released if they signed false confessions implementing community and national peasant leaders in invented crimes.
In April of 2010 the Garcia family began a new wave of violence to force the community off the remaining land. Numerous community members were arrested, including at least one minor. On December 28, 2010, humble community leader Pablo Sacrab Pop was arrested on fraudulent charges. He has remained in prison despite lack of evidence against him. He has faced violence, denial of food and denial of medicine while in prison in Coban. Many members of Saquimo Setana have spent time in prison, but Sacrab is the only one who remains behind bars. It is no coincidence that he is the father of Ana Maria Sacrab, a well-known regional organizer and human rights defender.
The community continued to face constant threats and frequent attacks but remained on the land for several more years. The repression had an extremely harmful impact on children in the community.  The school's elementary teacher told us that his students had difficulty concentrating because they were constantly worried about another attack.  The burning of houses and theft of harvests have made it difficult for parents to provide their children with appropriate nutrition.  Since the eviction and arson of the community's school, children have been left without access to education.
At approximately 3:00AM on November 30, 2013, community leader and legal representative Crisanto Cuc Xol was attacked in his home by Garcia family members and employees. He was beaten, tortured and taken to the police. His house was burned down and entire harvest was stolen. Shortly after this the entire community was violently evicted. Cuc was released six months later after extensive national and international pressure, but community members have not been able to return to their land.
GSP Activists film attack on Saquimo Setana:
On August 31, 2010, at approximately 11:00 am, armed members of the wealthy Garcia family began burning houses of the Q'eqchi Maya peasant community of Saquimo Setaña.

GSP activist Palmer Legare began recording a video of the arson. He was then attacked and briefly detained by the family, beaten with a pistol and his life was threatened. The camera was stolen and he was barely able to escape.

Approximately 7 hours later, Guatemalan police and army arrived in the community. They stayed until 2:00 am, but refused to disarm the wealthy family or recover the camera with its evidence of the attack.

On September 1, five members of the community and Legare traveled one hour by foot and three hours by truck to the city of Coban to file a complaint. They asked to speak with public prosecutor Sebastian Cucul, and were told to wait in the lobby. While they were waiting, Ms. Garcia entered the building and went to the second floor. Shortly after, Legare and another community leader went up to the second floor and waited outside the attorney's closed office until a custodian opened the door to take out the trash. At this time Legare saw that the wealthy attacker was meeting with the public prosecutor. Shortly after, public prosecutor Cucul sent a message that he would not meet with community members or with Legare.

The group then went to the police to file the complaint. Shortly after they entered, a police officer said that the police would arrest the husbands of two of the women who were present if they saw them. They also said that they are waiting for the weather to improve and at which time they would go to the community to destroy the houses and evict the residents—this despite a recent judge's order that the police are not to execute such an eviction. Police said that they could not accept the complaints from community members because no one in the station spoke the community's language of q'eqchi'. Anyone familiar with Coban will know this was a clear lie. Q'eqchi' is the principal language of the Coban region and is spoken by hundreds of thousands of people including many members of the police. Community members refused to leave and their testimony was finally taken hours later.

At approximately 6:30 in the morning on September 2, Legare was called by members of the community saying they had been walking to their cornfield to harvest corn needed to sustain their families. They were met by armed members of the wealthy family, who refused to allow them to go to their fields. They threatened that if they informed anyone of this, they would be killed and their bodies would be thrown in the river.

Shortly after this, family members and supporters of the family used horses, dogs and pistols to attack community members. Children, women and men in the community huddled together in an attempt to defend themselves.

Legare and other accompaniers arrived at the community a few hours later to find that supporters of the wealthy family had set fire to a peasant family's house while their 9-month baby was inside. Fortunately, the baby was saved, but the house and all the family's possessions were destroyed.

As supports of the family realized that others were arriving, they stopped their attack on the community and retreated. As Legare interviewed community leaders and took pictures of burned down houses, the armed family returned and threatened to shoot community leaders.

Later in the afternoon the police and army arrived in the community saying the wealthy family had called for help, accusing the community of attacking them. They did not arrive to protect members of the community and took no action against members of the wealthy family or their supporters.

Public prosecutor Sebastian Cucul has refused to receive formal complaints against Ms. Garcia or her family members and is clearly in support of the family.
Take Action:
1. Sign the petition demanding justice for Saquimo Setana
2. Make a donation to the Guatemala Solidarity Project.  All funds go directly to our partners.
We are volunteer run and 100% of contributions, other than small international bank transfer fees, go directly to our partners in Guatemala. We are coordinating with displaced community leaders from Saquimo Setana who continue to organize to reclaim their rights! We are also supporting a growing number of political prisoners like Pablo Sacrab who have faced beatings, denial of food, denial of medicine, and other horrific treatment. Their families often succumb to extreme poverty and hunger while they are in prison. Donate through our website or by sending a check made out to "UPAVIM Community Development Foundation" to UPAVIM, PO Box 63, Marshfield, VT 05658. Donations are tax-deductible in the United States. UPAVIM is our fiscal sponsor, and is a US-registered 501c3 nonprofit that helps us ensure that ALL contributions go to our partners.
3. Join us in Guatemala
Join the GSP and our partners in Guatemala as we visit political prisoners, communities targeted by government violence and other organizations and leaders in the movement for social justice.  More info on GSP delegations
4.Join the GSP Action Alert list and Take Action!
Making a phone call or signing a petition may not seem like much, but the GSP and our partners have seen how such actions can make a real impact on the ground. When a community is attacked or an indigenous leader is imprisoned, it is important that we mobilize a response as soon as possible. Sending a letter won't cause a nonviolent revolution in Guatemala. But it may put the government on notice so that they don't torture a community leader they have just arrested or murder civilians in a town they have just attacked.
To sign up for our Action Alert list, which is separate from our Quarterly Report list, please send an email to solidaridadguatemala@yahoo.com with the subject line "Add to Action Alert list."