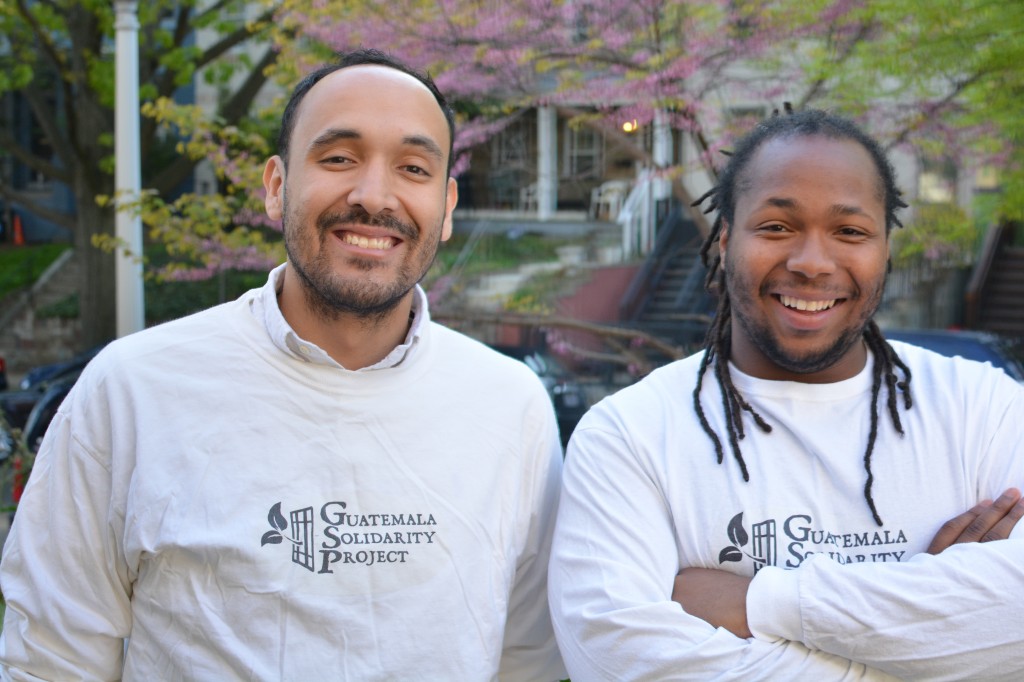 Announcing Fall/Spring 2019-2020 Internship in DC
Stipends Available for Qualified Candidates
The Guatemala Solidarity Project is accepting applications for interns beginning August 26, 2019.  Applications will be accepted on a rolling basis but stipends may only be available for the first qualified applicants.  Full time interns may receive a maximum stipend of $350 per week, and part time interns may receive a maximum stipend of $200 per week.
For nearly 20 years the GSP has worked in solidarity with over 50 indigenous and peasant communities and organizations and with leaders and political prisoners in Guatemala.  We have played an important role in preventing the violent evictions of dozens of indigenous communities, freeing political prisoners, closing illegal mining operations, creating new schools and similar work with our partners.
The majority of our partners are struggling against extreme poverty, environmental destruction and government supported repression.  They are targeted because private companies seek to steal natural resources on their lands.  The burning of indigenous communities is often followed by massive deforestation and environmental devastation.  We follow our partners' lead to document and denounce human rights abuses, organize human rights accompaniment, lobby members of congress, raise funds to build schools, pay emergency medical expenses resulting from government and paramilitary attacks, and for related efforts. 
Responsibilities:
All interns receiving a stipend must participate in fundraising campaigns.  For new interns this primarily consists of door to door or street canvassing.  Qualified applicants may support grant writing activities.
Together with the GSP, each intern will decide on the particular focus of their internship before it starts.  Interns will also be expected to support other areas of our work that may not be their focus.  Interns will have the opportunity to gain experience, improve their skills and support the work of the GSP in the following areas: 
Congressional Meetings:

 

The GSP has participates in meetings with dozens of congressional offices as well as high ranking officials from the Department of State and World Bank.
501(c)4 Development: Because of our increasing work related to lobbying, our supporters may be starting a new 501(c)4 nonprofit organization to focus on this work.

 

Interns would have the unique opportunity to learn about the creation of nonprofit organizations.
Website and Social Media Development:

 

We have used our website and facebook page to help gather tens of thousands of petition signatures, raise funds, recruit volunteers, raise awareness about human rights conditions in Guatemala, and for numerous other purposes.
Video Editing and Production:

 

The GSP has produced over 15 short videos about the human rights situation in Guatemala.
Fundraising:

 

Interns will have the opportunity to support fundraising efforts by organizing fundraising events, canvassing area neighborhoods, researching and writing grants, talking with previous donors and editing and writing fundraising letters.

 

Translation:

 

Interns and volunteers who are fluent in both English and Spanish can support our important work translating interviews, documents and emails.

 

Organizational Development:

 

Interns will participate in discussions about the organizational development of the GSP and gain better understanding of the challenges faced by nonprofit organizations.

 

Writing and editing articles:

 

The GSP has released hundreds of action alerts and articles about the human rights situation in Guatemala.
Outreach and Petitions:

 

Interns will be expected to help support and develop other areas of outreach. This includes the development of petitions and acquiring signatures both in person and online.

 
Requirements: 
Minimum of 10 hours per week.
Candidates must be able to commit to a schedule and be punctual.
Interns must be able to participate in office work three blocks from the Brookland-CUA metro station.

 

However most activities will take place out of the office, always in the DC metro region.
Strong oral and written communication skills.

 

Strong organizational skills.

 
Preference will be given for any of the following, but none are required:
Documented interest in at least one of the following areas: Latin America, activism, human rights, peace, justice, indigenous rights, the environment, and ecology.

 

Availability to work on Wednesdays and Saturdays.
Fluency in English and Spanish.
Experience in Guatemala
Experience in a third world country.
Interest in visiting partner communities in Guatemala in Summer 2020.

 

Visiting partner communities requires the ability to walk several miles on uneven ground and willingness to sleep on hard surfaces in villages.

  (

Financial assistance may be available
Participation in fundraising, including canvassing (This is especially important for interns seeking to receive the maximum stipend)
When can I apply?
Applications are accepted on a rolling basis.  We are currently looking for interns for Fall 2019, Spring 2020 and Summer 2020.  However, maximum stipends may only be available for the first qualified applicants.
To apply please send cover letter and resume to info@guatemalasolidarityproject.org